Sedona Red Rocks Map
Many visitors have requested a Sedona Arizona map of red rock formations. Not only is this a great map to help you get to know the major sightseeing spots and best views in Sedona, it acts as a great self-guided driving tour map of Sedona. Even better, it's a combination two points of view: an aerial view of Sedona coupled with pictures of Sedona red rock formations on the horizon. See more about our recommendations for a self-driving tour of Sedona.
Expand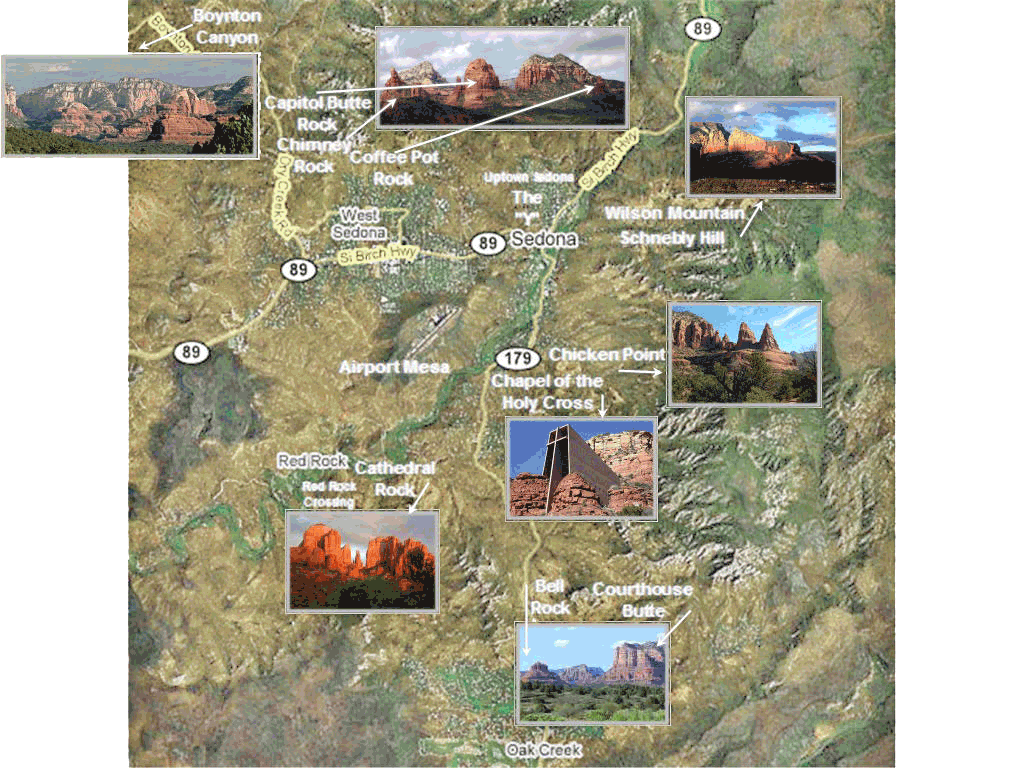 Start your driving tour in the Village of Oak Creek south of Sedona and see Bell Rock and Courthouse Butte. As you travel up Highway 179, you'll see the turnoff for Cathedral Rock and get a sneak peek of this most-photographed red rock formation. Continue north and you'll see to the east the Mystic Hills above the Chapel of the Holy Cross, Chicken Point and finally Schnebly Hill. Turn West at the "Y" (the intersection of Highway 179 and Highway 89) and you'll see to the north and northwest Coffee Pot Rock, Capitol Butte and Chimney Rock. Travel up Boynton Canyon (turn north at Dry Creek Road) to see the magical sites of the ancient Native American tribes. Back down in West Sedona, you can drive the Red Rock Loop to the famous Red Rock Crossing.
---
NEW! Explore Sedona's Red Rocks on Google Earth
Using Google Earth is a fantastic way to explore and interact with Sedona's most famous red rock formations.
(You will be prompted to install Google Earth if you don't already have it installed on your device.)
Not only is this a very cool tool to use when planning your Sedona vacation, but exploring with it will just give you a better layout of the land. For those who love maps, this really takes map exploration to a whole new level. Sedona has become very popular over the years and both driving and foot traffic have unfortunately become a significant issue for visitors and locals alike. The better you plan, the more you'll get to see - or at least, you'll get to see the rock formations you found most exciting through Google Earth Sedona Red Rocks Map.
If you want to incorporate exploring Sedona's famous vortexes while using Google Earth, check out our Google Earth Sedona Vortex Map.
---
PLACES TO SEE IN SEDONA
---
---
---
---
---
---
---
---
---
---
---
---
---
---
---
---
---
---
---
---
---
---
---
---
---
---
---
---
---
---
---
---
---
---
---
---
---
---