Shuttles
Sedona shuttle transportation companies offer several departure times, most often from Phoenix Sky Harbor Airport throughout each day. While not as individualized as renting your own car, it's fairly easy to find a departure time that corresponds to your travel itinerary. Likewise, taking a shuttle represents a compromise on cost; it's often more expensive overall to take a shuttle as the typical fare is about $53-76 per person each way. When you factor in the cost of cabs and other transportation once you arrive in Sedona is can be a little less cost-effective. However, what you give up in budget can return big benefits when it comes to customer service and being able to relax and enjoy the ride. Sedona's traffic and parking issues around town and at trailheads can often be quite stressful and time-consuming.
If your aim is to book a shuttle from Phoenix to Sedona and back, be prepared with a plan for your transportation when you arrive in Sedona. You'll find that points of interest are too spread out to reach solely on foot, there is limited public transportation here, and cabs must be scheduled as opposed to caught, but Sedona does have Lyft and Uber. Also, take advantage of guided tours that do courtesy pick-ups from your hotel or the Sedona Trolly.
Shuttles Between Phoenix & Northern Arizona
The most used shuttle for distance transport between Phoenix, Camp Verde, Village of Oak Creek Flagstaff, Grand Canyon, and Sedona is Groome Transportation. You can find their exact schedule and ride fares on their website, Groome Transportation. One-way fare is about $62 from Phoenix to Sedona, depending on where you get picked up and dropped off. And a roundtrip ticket is about $108. You can save a few dollars by booking your shuttle transportation online on their website.
Shuttle to Trailheads
Cost: Free to park and ride. No Red Rock Pass is necessary.
Pets: Only service animals are allowed on the shuttle. Service animals are defined as "any guide dog, signal dog, or other animals individually trained to work or perform observable tasks for an individual with a disability.
Bikes: Shuttles are equipped with a bike rack to carry 3 bikes at a time. These are available on a first-come, first-serve basis. If there is room in the vehicle, additional bikes may be accommodated in the wheelchair positions inside the bus.
For more detailed information, please go to the Sedona Shuttle official website.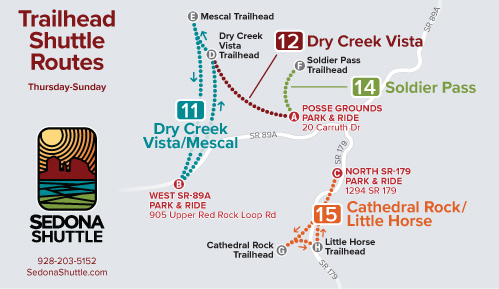 ---
WHERE TO STAY & THINGS TO DO WHILE IN SEDONA
---
---
---
---
---
---
---
---
---
---
---
---
---
---
---
---
---
---
---
---
---
---
---
---
---