Shuttles
Sedona shuttle transportation companies offer several departure times, most often from Phoenix Sky Harbor Airport, throughout each day. While not as individualized as renting your own car, it's fairly easy to find a departure time that corresponds to your travel itinerary. Likewise, taking a shuttle represents compromise on cost; it's often more expensive overall to take a shuttle — the typical fare is about $53-76 per person each way — when you factor in the cost of cabs and other transportation once you arrive in Sedona. However, what you give up in budget can return big benefits when it comes to customer service and being able to relax and enjoy the ride.
If your aim is to book a shuttle from Phoenix to Sedona and back, be prepared with a plan for your transportation when you arrive in Sedona. You'll find that points of interest are too spread out to reach solely on foot, there is limited public transportation here, and cabs must be scheduled as opposed to caught, but Sedona does have Lyft and Uber. Also take advantage of guided tours that do courtesy pick-ups from your hotel or the Sedona Trolly.
The most used shuttle for distance transport between Phoenix, Camp Verde, Village of Oak Creek and Sedona is Arizona Shuttle. You can find their exact schedule and ride fares on on their website,
ArizonaShuttle.com.
---
1. SEDONA WINE & BEER TOURS BY SEDONA DELIVERS, LLC
Experience the best wines Arizona offers with our private, customized, wine tours. Learn about uniqu
...
More
2. Best Western PLUS Inn Of Sedona
Save on your accommodations by booking the one of our money-saving vacation packages. Packages inclu
...
More
3. Anke's Signature Retreat Feb 15th-17th, 2019
Join us in Sedona, Arizona February 15th - 17th, 2019 for Anke's Signature Retreat. Find out what's
...
More
4. GreenTree Inn Sedona
GreenTree Inn Sedona is located just minutes from downtown, just off State Route 89A. Our beautifull
...
More
5. Sedona UFO & Vortex Tours
"Voted BEST 1 day experience in Sedona. Let me show you the true POWER of SEDONA! Sedona is not
...
More
6. El Portal Sedona
El Portal Sedona Hotel is dedicated to providing an extraordinary lodging experience for guests a
...
More
7. Clarkdale Rocks Gem & Mineral Show To Be Held February 22nd To 24th, 2019
The Annual Clarkdale Gem and Mineral Show and Sale will be held at the Clark Memorial Clubhouse A
...
More
8. Sedona Trail Zen
Sedona Trail Zen makes adventure accessible for everyone! Our guided hiking excursions take you to
...
More
9. Half-Day Polaris Slingshot Rental from Sedona
Sedona slingshot rentals is a new an exhilarating way to see the sights all around Sedona. Explore v
...
More
10. Grand Canyon Day Tour
Voted on Trip Advisor as the most popular Grand Canyon day tour. This is the best way to enjoy th
...
More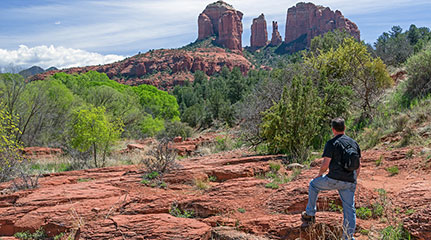 SEDONA ON A BUDGET
Secrets to visiting Sedona for less. Tips on where to stay, what to do, and where to eat on a budget. Save Money on Your Sedona Trip »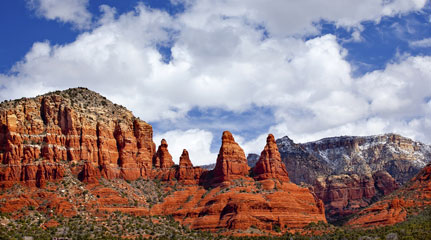 SEDONA, AZ WEATHER
Check out the weather conditions before you come. And in case you're wondering, there is no bad time to have a Sedona, AZ vacation.
See Sedona Weather »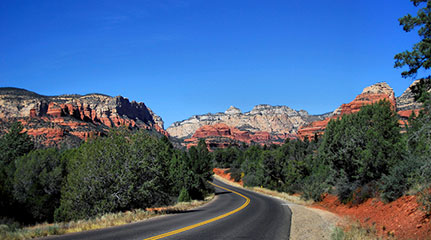 DRIVING DIRECTIONS TO SEDONA
Getting to Sedona is the first step. Driving is the most popular and practical way to get here.
Get Driving Directions from Nearby Cities »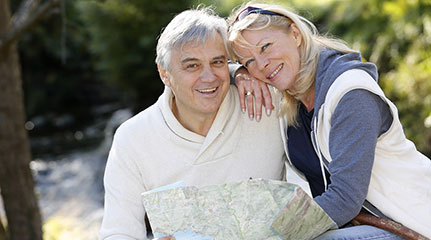 SEDONA FOR ACTIVE SENIORS
A perfect setting for active seniors, Sedona is hailed as one of the most beautiful places to visit in America.
Get Out and Play »