Best Sedona Hotels for Your Sedona Vacation
Choosing which one of the Sedona hotels to stay at can play a significant role in your overall experience, especially in Sedona where your hotel may be your ultimate destination. Some hotels offer such incredible amenities that you might not feel so inclined to leave the property! Selecting the right Sedona hotel totally depends on the type of traveler you are and your preferences. Sedona hotels range from recognizable brand names like Hilton, Best Western, Hyatt and others to locally owned, boutique hotels unique to Sedona. Boutique hotels are usually well-appointed and noted for excellent service and attention to detail, boasting individualism not found at many familiar brand-name establishments. But if you're willing to give the well-reviewed boutique hotels in Sedona a try, you're sure to have an authentic, only-in-Sedona experience.
Sedona Hotel Pricing & Amenities
Sedona can be an expensive destination, but it doesn't have to be. There is everything from creekside camping to 5-star resorts available to choose from. Hotel rooms in Sedona cost between $125 - $550/night on average, while resorts and luxury vacation homes start around $350/night and go up from there. The price is mostly based on the quality and type of amenities the hotel has to offer.
---
Top 5 Best Overall Sedona Hotels
Sedona hotels live up to a standard that is much higher than most other destinations. Even when staying at one of the "Best Overall Sedona Hotels", you can still expect quite a few luxury amenities. Expect exceptional linens, spacious living quarters, in-room fireplaces and jacuzzi tubs, upgraded breakfast options, beautiful views, and as always in Sedona, outdoor pools, hot tubs, and exercise facilities. You'll even find private dog parks, mountain bike washing stations, and many other amenities important to the kind of guests who like to visit this incredible outdoor mecca.
---
Top 5 Best Pet-Friendly Sedona Hotels
All pet owners know that there is a difference between "pets-allowed" versus being truly "pet-friendly". Many Sedona hotels even take it a step beyond with "pets are family." Places like Sedona Real offers a fully-gated, private dog park with BBQ grills, and fire pits creating a community space that you can enjoy with your whole family while letting your pups play with new friends. If you're looking to give your pup the luxurious experience that you're enjoying, El Portal offers upscale accommodations with no pet fees or size restrictions. They even provide your pup with a "Welcome Basket" which includes a blanket, doggie bags and treats! If you're going out to dinner or need pet sitting while going on a tour or day trip to the Grand Canyon, El Portal also has dog sitting, kenneling and doggy-day care resources ready for you and your pup!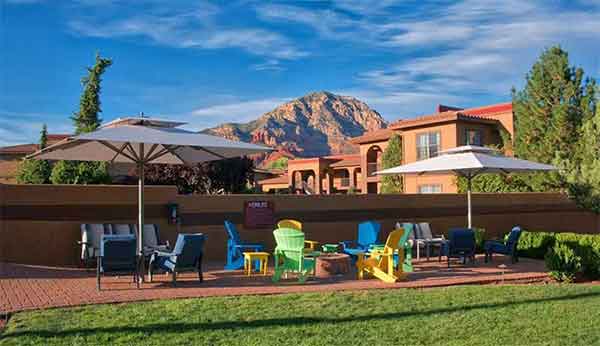 Sedona Real Inn & Suites Dog Park
---
HIGHLY-RECOMMENDED HOTELS IN SEDONA
---
---
---
---
---
---
---
---
---
---
---
---
---
---
---
---
---