Best Sedona Day Hikes
You don't need a guide to hike in Sedona, but we highly recommend it. Sedona hiking tour guides have a deep understanding of the geology, terrain, history and elements that make Sedona unique and special. If you are the kind of person that likes to learn and have rich experiences, Sedona guided hikes are the way to go. From vortex, yoga, or meditation hikes to historical, archeological hikes, there is a Sedona hiking guide service to match your interests and preferred hiking pace. The other advantage of going on a guided hike is that you are free to enjoy the views, get lost in the moment and not on the trail. You'll be able to enjoy less traveled travel trails that only the guides and few locals know of.
If you just want to know what some of the best hikes in Sedona are, here's a pretty good start:
Best with Your Kids: West Fork
This 6-mile hike follows an idyllic stream which you can enjoy March-November. This is a great option for kids because the water is so much fun! It is flat with easy effort, and you can turn around at any time on this shaded out-and-back trail. Get there early to access the parking lot.
Directions: From Sedona head North on Hwy89A and you will find it on the left, on a tight curve in Oak Creek Canyon.
---
Best Photo Opportunity: Devil's Bridge
An easy two-mile walk to a natural arch and beautiful views. Fairly easy out and back available year-round.
Directions: From the "Y" in Sedona head west on Hwy 89A to milepost 371. Go right onto paved Dry Creek Road 2 miles to forest service road 152 – Go right again 1.3 miles to a well-marked trailhead parking area.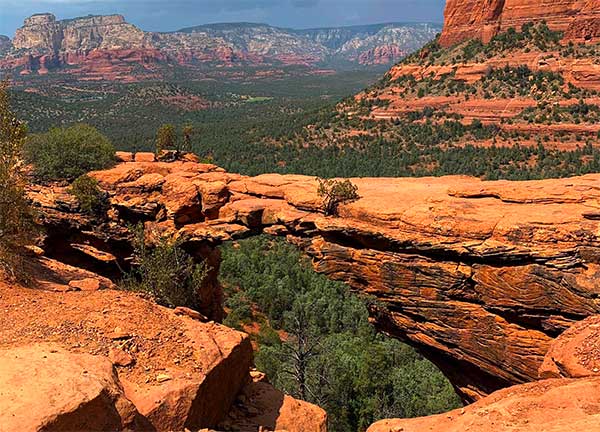 ---
Best for a Long Run:
If you are going for a long run or hike in Sedona you need to do your research and arrive aware of your skill level, the weather, and where you are going. It is easier than you think, to get out on these beautiful trails and not realize how far you have gone until you are already lost. Do not forget water and be prepared in case you get lost on the multitude of trails.

12-Mile-Run Park at Midgley Bridge, take Jim Thompson up Brins Mesa, down to Soldiers Pass to Jordan Trail and back on Jim Thompson
10-Mile-Run Start at the TH next to Adobe Village Inn on Bell Rock Blvd. Take Slim Shady 2.6 miles to Templeton Trail 3.4 miles. You will hit water and swimming holes.
---
Best for an Adventurous Hike: Bear Mountain Trail
A hard, out, and back, 6-mile hike that you should plan to spend 4 to 5 hours on. This is open all year but extremely hot in the summer. There are stunning views all around after summitting four different steps to get to the top of this mountain.
Directions: From the "Y" in Sedona, go west on Hwy 89A 3.1 miles to mile post 371 Dry Creek Road. Turn right toward Boynton Pass Road then take a left onto Boynton Pass and continue another 1.2 miles to the trailhead parking on the left. This parking lot is shared with Doe Mountain Trail.
---
Best Loop: Airport Loop
This is my favorite loop because the views never stop. A 3.5-mile loop that ends at a vortex. This trail circumnavigates the rim of Airport Mesa. This trail is level compared to other Sedona hikes, but very rocky making it feel extra adventurous.
Directions: Head to Sedona's airport and turn left on airport road. The vortex parking lot is on the left 0.5 miles up the hill. The hike begins behind the guardrail across the road from the parking lot.
---
Best Views: Cathedral Rock
Most hikes in Sedona will get you to endless jaw-dropping views, but Cathedral Rock's view is special because you feel like you are in the middle of the red rock towers. This steep and quick route gets you 600 feet high in 0.7 miles. There is a scrambling section of steep slick rock, but most can make it.
Directions: From the "Y" in Sedona head south on Hwy 179 S to Back O Beyond Rd.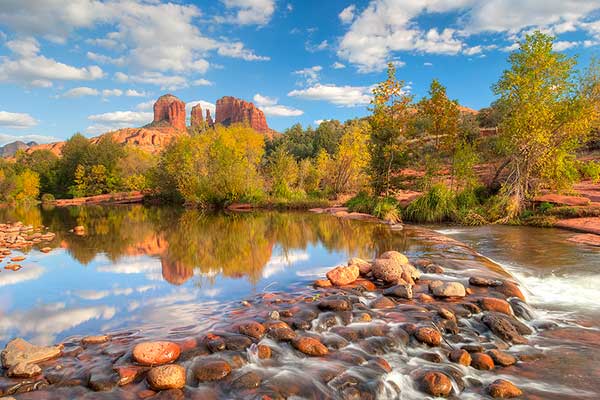 ---
The Hike that Gets You Up on Top of Something: Doe Mountain
Cosmic Ray's guidebook describes this as climbing sky island to a vast panorama. A 3.6 mile out and back is available all year and a moderate hiking effort considering the summit you reach. On top of Doe Mountain, you will be 400 feet up on a narrow flat top that is easy to explore and get vast views from every direction.
Directions: From the "Y" in Sedona, go west on Hwy 89A 3.1 miles to milepost 371 Dry Creek Road. Turn right toward Boynton Pass Road then take a left onto Boynton Pass and continue another 1.2 miles to the trailhead parking on the left.
---
Best Sedona Hikes Overall
West Fork Trail
This flat, scenic trail takes you through apple orchards, past historic structures, along blackberry bushes and into Oak Creek amidst the towering walls of Oak Creek Canyon. The most difficult part of this trail is crossing the shallow creek water several times on stones laid across or by getting your feet wet. The water level and temperature change depending on the time of year, but the water is never high enough that you can't cross it. This is one of Sedona's most popular hikes for good reason; it's gorgeous year-round and it puts you right in between canyon walls along a clear water creek. $11 parking/car.
---
Cathedral Rock
Cathedral Rock in Sedona offers some of the best views and is a short 1.5 mile hike round trip with a. 740+ ft elevation gain. As a bonus, you can scramble up a bit further past the saddle to get a better view with fewer people. The scramble portion is near vertical. so be cautious if you plan to get that stellar sunset view. Dogs are allowed, but it is not advisable for most dogs. Cathedral Rock is also one of the famous vortex points, which makes this a very popular hiking location.
---
Best Hikes to Catch Sunset
Sedona's western canyons are great for sunsets. Just past Boynton Pass you can park at the Doe Mesa trailhead and have a choice of two hikes: Doe Mesa is a moderate one-hour ascent (3.6 mile round trip) to a plateau with great views everywhere you look; it's across the street from Bear Mountain. This is not an easy hike with an elevation gain of 1,800 feet (6 miles return trip), but the locals will tell you it's the best trail around just bring lots of water and sunscreen.
---
Best Hikes for When It's Hot
When it's hot, most of us head for Oak Creek Canyon. West Fork hike fits in this category, but there are other great hikes that take you to the creek as well. At Midgley Bridge, you have your choice of three hikes. The Huckaby Trail passes under the bridge and descends down to the creek where you can rest with your feet in the chilly water. You can continue on the trail for another five miles to the trailhead on Schnebly Hill road or just go back to Midgley Bridge. The Wilson Canyon trail explores the wash upstream, following in the steps of pioneer Richard Wilson who tracked a wounded Grizzly and was then promptly killed by the bear. And finally, the Wilson Mountain trailhead also begins at the Bridge. Here you can ascend right up to the Ponderosa Pine forest that grows on the Colorado Plateau 1,500 feet above, but be warned this hike is strenuous without much shade once you begin.
---
Even when you hike by yourself in the canyons of Sedona you won't feel alone. The town sits in the middle of 1.8 million acres of National Forest and has a healthy population of animals, including bobcats, mule deer, javelina, mountain lions and coyotes. For your best chances of an animal encounter, plan to be on the trails either around sunrise or sunset. Many of the trails also pass by ruins or walls covered with rock art and petroglyphs because during the time of the Sinagua, (500 AD and 1425 AD) there were as many as five thousand Indians living in the Verde Valley and the deeper you go into the canyons the stronger their presence becomes. But if you're just a little unsure about venturing out by yourself or would like a back up tool, we suggest downloading the Sedona Hiking App. This app is FANTASTIC for choosing the best hike for you regarding difficulty, time, elevation gain, etc., and it uses your phone's GPS to help you see that you're always on the right path.
---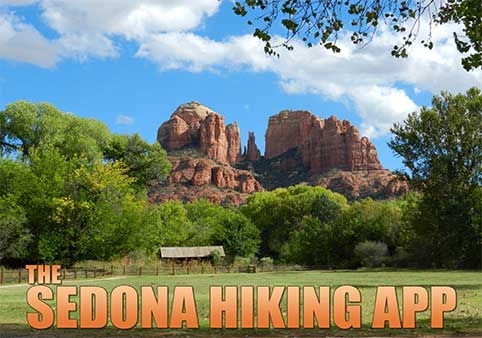 Get the Sedona Hiking App
This Sedona Hiking App currently has over 110 trails, over four hundred miles of trail documented and available in the App. You can follow your location in real-time and always know where you are on the trail. Here's how it works: After you decide on the trails you'd like to experience, download the trails onto your device (with a network connection) and 'select' them as you do the hike. Click 'Take a Hike' to see the map. Everything you need is in each hike package, including driving directions This really is hiking for everyone. Easy, moderate, and hard day hikes to enjoy the grandeur of Sedona!
View Sedona Hiking App »
---
---
MORE OUTDOOR RECREATION IN SEDONA
---
---
---
---
---