Sedona Cabin Rentals & Quiet, Hidden, Cabins on Oak Creek
Enjoy staying in a cozy cabin surrounded by red rocks and perhaps creekside in Oak Creek Canyon. Sedona cabins are a popular choice for lodging because they offer privacy, space, and flexibility in a variety of settings perfect for singles, couples and families. Renting a cabin in Sedona right now is truly a great option for enjoying the changing seasons! Most of the cabins are located along Oak Creek, a beautiful creek that runs through Sedona offering beautiful swimming holes, fishing, and shady, cool places to sit and enjoy your favorite beverage while listening to the calming sound of water in nature.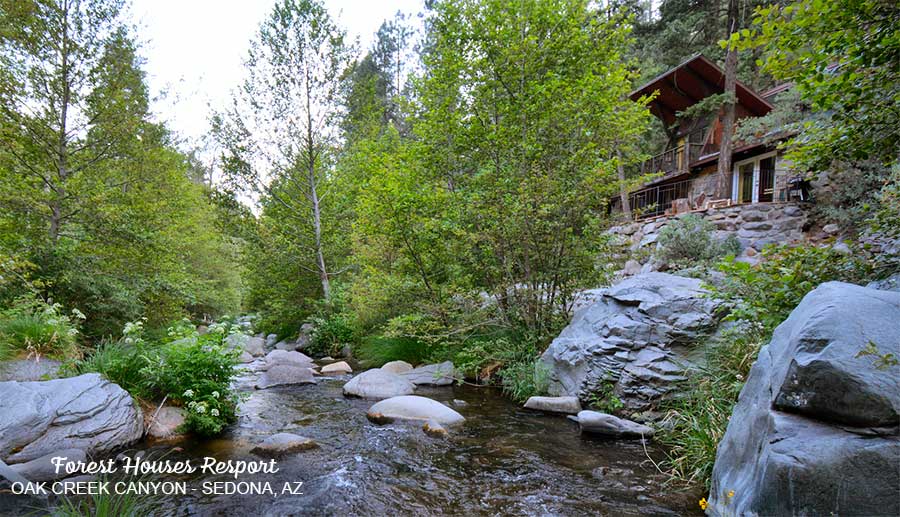 Knowing how close you'd prefer to be from dining and town activities will help you find the cabin that suits your needs. You'll find that many of the cabins in the area are located in Oak Creek Canyon, which is just a few miles north of Uptown Sedona on Highway 89A. This area is green, lush, and feels like an enchanted forest lined by Sedona's towering canyon walls. The road follows along Oak Creek and for the most part, the cabins are so hidden by trees you'd never know they were there. Many of Sedona's campsites are located in this area as well. Be it a pro or a con for you, it is further away from dining, grocery stores, and other city amenities. But if you need those things, it's really just a 10-15 minute drive back into Sedona proper depending on traffic and time of day.
Sedona Cabin Amenities
Sedona really does have something for everyone. Rustic cabins with their own kitchenettes, woodstoves, and outdoor picnic tables are a favorite for locals just wanting to get away for a weekend with their families while the kids go swimming in the creek or play in the trees. But for those who want that "getaway" experience in Sedona but with luxury amenities, that is amply provided as well. There are quite a few cabin resorts that offer fine dining, hot tubs and whirlpools, gourmet breakfasts, and more. But you don't really have to choose one or the other, most of the Sedona cabins offer something in between. You'll really enjoy whichever Sedona cabin you choose because you can't really go wrong!
Junipine Resort offers apartments and cabins with a full kitchen, a living room with a fireplace, and a restaurant on site. This resort features rustic elegance including fishing on the property, a wrap-around terrace with either river or mountain views and is located Slide Rock Park is just a 5 minutes drive away.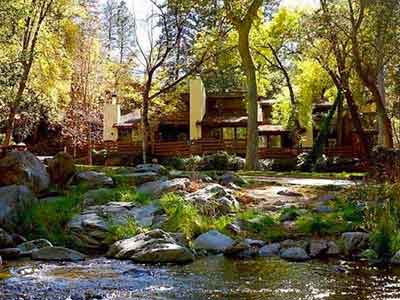 ---
One of the most popular places to stay in Beautiful Oak Creek Canyon With creek frontage access. They have private in-room Jacuzzis and fireplaces, great for relaxing at the end of the day, Enjoy outdoor terraces with hammocks and cozy seating areas with creek and canyon views. Don't forget to bring fury children, as they are pet friendly.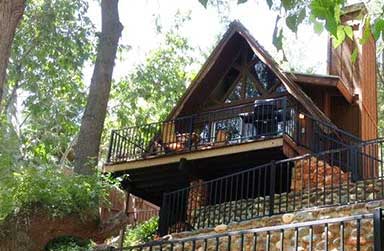 ---
Forest Houses Resort is situated on 20 wooded acres in upper Oak Creek Canyon. Sixteen uniquely designed houses crafted from native boulders and log beams feature fine views of the canyon and forest. Beneath the canyon walls and multi-colored cliffs, Oak Creek runs by the property – a clear, cool, continuously flowing mountain stream.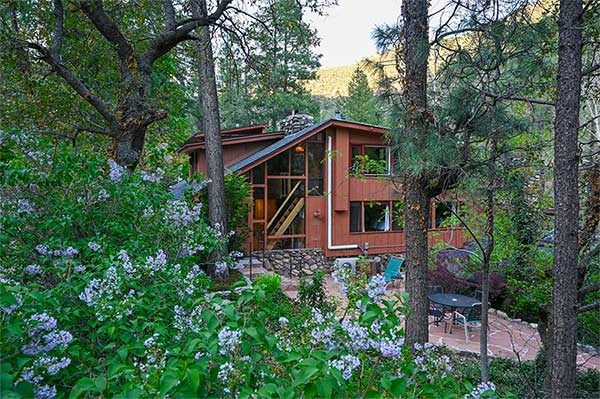 ---
Located in Sedona, within 1.7 mi of Chapel of the Holy Cross, Cozy Sedona Cottage with Private Creek Access offers accommodations. This property offers access to a patio and free private parking. This holiday home features 2 bedrooms, a kitchen with a dishwasher and a microwave, a flat-screen TV, a seating area and 1 bathroom fitted with a hot tub.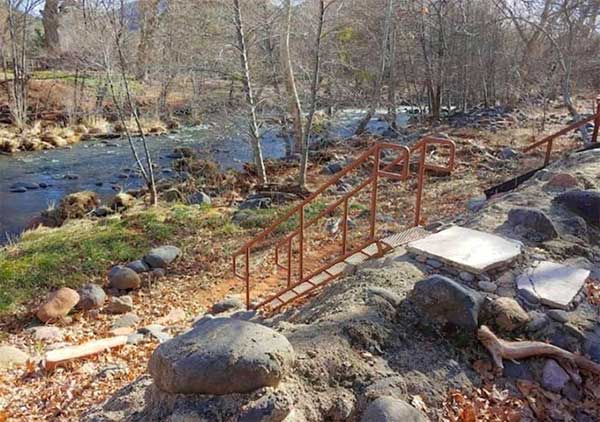 ---
From log cabin bungalows to larger family-sized cabins with multiple rooms and full kitchens are available, these cabins provide a wonderful escape with luxurious beds and rustic charm. All the cabins are equipped with amenities from blow-dryers to Keurig coffee makers to meet your everyday needs. Enjoy wonderful outside seating area to enjoy the sounds of nature and relax.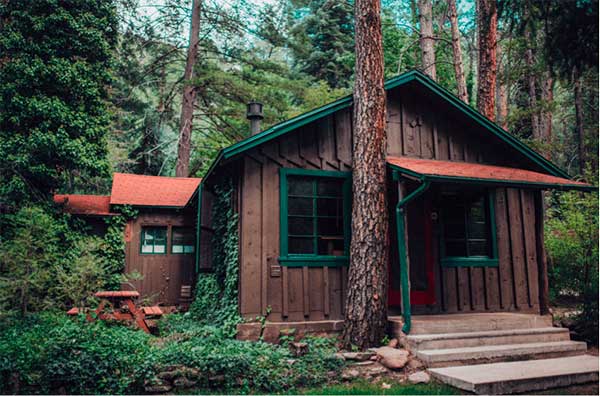 ---
Most Romantic Cabins
Briar Patch Inn
L'Auberge De Sedona
Junipine Resort
Oak Creek Terrace Resort
Best for Rustic/Hidden Getaways
Don Hoel's Cabins
Forest Houses Resort
---
RECOMMENDED CABINS IN SEDONA
---
---
---
---
---
---