Best Sedona Cabin Rentals
Stay in a cozy Sedona cabin during your next visit! Sedona cabins are a popular choice for lodging because they offer privacy, space, and flexibility in a variety of settings perfect for singles, couples and families. Renting a cabin in Sedona right now is truly a great option for escaping the summer heat! Most of the cabins in Sedona are located along Oak Creek, which a beautiful creek that runs through Sedona offering beautiful swimming holes, fishing, and shady, cool places sit to enjoy a cocktail while listening to the calming sound of water in nature.
Choosing the Best Sedona Cabin for You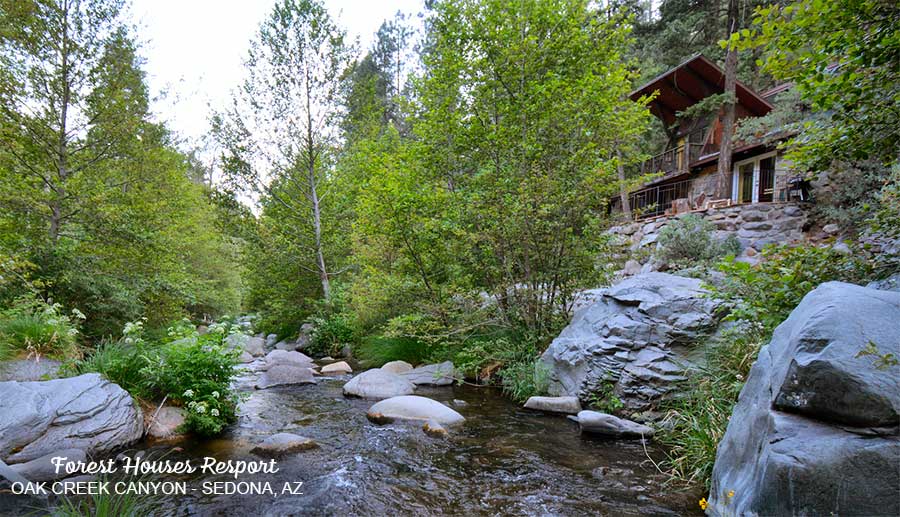 When it comes to choosing a cabin in Sedona, it's best to start off by knowing how close you'd prefer to be from dining and town activities. Many of the best Sedona cabins are located in Oak Creek Cayon, which is just a few miles north of Uptown Sedona on Highway 89A. This area is green, lush, and feels like an enchanted forest lined by Sedona's towering canyon walls. The road follows along Oak Creek and for the most part, the cabins are so hidden by trees you'd never know they were there. Many of Sedona's campsites are located in this area as well. Be it a pro or a con for you, it is further away from dining, grocery stores and other city amenities. But if you need those things, it's really just a 10-15 minutes drive back into Sedona proper depending on traffic and time of day. If you prefer to be closer to city amenities, renting a Sedona vacation home rental might be a better fit. And rest assured, there's no shortage of brilliant vacation homes to stay in when you're in Sedona.
Sedona Cabin Amenities
Sedona really does have something for everyone. Rustic cabins with their own kitchenettes, woodstoves and outdoor picnic tables are a favorite for locals just wanting to get away for a weekend with their families while the kids go swimming in the creek or play in the trees. But for those who want that forest getaway experience in Sedona but with luxury amenities are well catered to as well. There are quite a few cabin resorts that offer fine dining, hot tubs and whirlpools, gourmet breakfasts and more. But you don't really have to choose one or the other, most of the Sedona cabins offer something in between. You'll really enjoy whichever Sedona cabin you choose because you can't really go wrong!
---
RECOMMENDED CABINS IN SEDONA
---
---
---
---
---
---
---
---