Sedona Fall Leaf Colors
Looking for the best place in Sedona to see the leaves change color this fall? You can start keeping a lookout for this magical time starting late September through mid-October. This has typically been the best time to visit Sedona to see the fall leaves change color, though that may change from year to year based on the seasonal temperatures. You'll find that it starts earlier up north near Flagstaff and then works its way down south towards Sedona later in the season. If you want to plan a leaf-peeping trip to Sedona, take a scenic drive through Oak Creek Canyon on Highway 89A north towards Flagstaff. Start your fall colors trip with a drive up the canyon up the switchbacks, perfect for viewing and photographing the canyon walls and plateau of the Coconino National Forest in all their autumnal glory.
Make sure to stop at the Oak Creek Vista about halfway between Sedona and Flagstaff on Highway 89A for a great picture-taking opportunity and a chance to get out of the car and smell the crisp, clean fall air.
This drive is 28 miles (about 40 minutes) from Sedona toward Flagstaff on Highway 89A. You may choose to turn around and drive back the same route (56 miles, 1 hour 20 minutes), or take I-17 south 40 miles to exit 298 for Highway 179. Take Highway 179 approximately 14 miles north to Sedona (82 miles, 2.5 hours.)
Other great Sedona fall lead scenic drives include a jaunt up Dry Creek Road to Boynton Canyon Road or a drive around the Red Rock Loop. Dry Creek Road and Red Rock Loop Road are both west of westbound Highway 89A.
---
Best Fall Hikes in Sedona
Westfork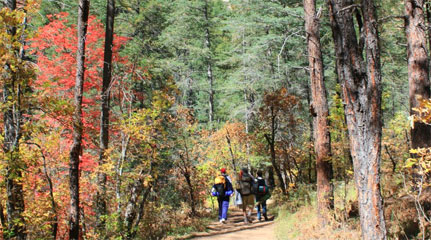 A favorite fall hike is the West Fork Oak Creek trail. This truly is the best trail to enjoy the gold and crimson leaves of fall along Oak Creek. You'll be walking between the gently flowing Oak Creek stream and the steep walls of the canyon, while surrounded by the fall colored leaves chattering in the wind. This is a beautiful and magical place, so please take extra care to not litter.
Location:
17.5 miles south of Flagstaff (9.5 miles north of Sedona) on paved roads in scenic Oak Creek Canyon.
GPS: N34° 59' 25.3314", W-111° 44' 14.244"
Access: Drive south 17.5 miles south from Flagstaff or north 9.5 miles from Sedona to about halfway between milepost 385 and 384. The trailhead is on the west side of the highway down a paved lane that leads behind a few creekside houses. Park at the Call O' The Canyon day-use area.
Rating: Easy
Hiking time: 2-3 hours round trip
Notes: No mechanized vehicles in Wilderness.
This trail can become extremely crowded, especially on summer weekends.
It will be closed during times of high fire danger, usually in late June.
Dogs must remain leashed at all times.
Oak Creek Path
If you don't want to take on all of West Fork Trial, there is an easy, snack-size version of the hike called the Oak Creek Path. The path is easy to follow and many people use it as a way to access different areas along Oak Creek. It is paved and wheelchair accessible. There are many short side trails to access Oak Creek. The surrounding grounds have picnic tables and grills that make for the perfect BBQ lunch opportunity. There are also amazing views of Cathedral Rock from here.
Trail Details »
Bear Sign Trail
For a bit more of a less traveled, remote hike, try Bear Sign Trail. It's a moderate hike tucked into the Secret Canyon Wilderness. It is a shady trail and it eventually climbs gradually parallel to a drainage with views of the red rock walls of the rugged canyon. The tail ends in a carpet of ferns with views of white Coconino sandstone cliffs.
Trail Details »
Huckaby Trail
Huckaby Trail is a popular choice for a flat, easy, fall saunter. This trail is close to town and offers views of both Oak Creek and Uptown Sedona. As the trail curves to follow the creek, there's shrubbery and trees that change color during the fall. Huckaby Trail is perfect for leaf peeping as well as get a view of some of Sedona's most famous red rock formations.
Trail Details »
Casner Canyon Trail
This is one of the best and most underrated trails for experiencing fall in Sedona. This trail walks you through the water of Oak Creek, so be prepared to get those feet wet! Once past the creek, you will head up the canyon's north slope. It then continues a long and sometimes steep climb to the canyon rim about a half-mile north of the Schnebly Hill Road overlook. The route it follows is a scenic one, right through the middle of some of the rock formations that make up the spectacular view from Sedona and Highway 89A.
Trail Details »
---
GREAT THINGS TO EXPLORE IN THE FALL
---
---
---
---
---
---
---
---
---
---
---
---
---
---
---
---
---
---
---
---
---
---
---
---
---
---
---
---
---
---
---
---
---
---
---
---