Sedona Fall Colors
Fall Scenic Drives
Late September through mid-October is the best time to visit Sedona to see the fall leaves change color. Plan a leaf-peeping trip to Sedona that revolves around a scenic drive though Oak Creek Canyon on Highway 89A north towards Flagstaff. Start your fall colors trip with a drive up the canyon up the switchbacks, perfect for viewing and photographing the canyon walls and plateau of the Coconino National Forest in all their autumnal glory.
Make sure to stop at the Oak Creek Vista about half-way between Sedona and Flagstaff on Highway 89A for a great picture-taking opportunity and a chance to get out of the car and smell the crisp, clean fall air.
This drive is 28 miles (about 40 minutes) from Sedona toward Flagstaff on Highway 89A. You may choose to turn around and drive back the same route (56 miles, 1 hour 20 minutes), or take I-17 south 40 miles to exit 298 for Highway 179. Take Highway 179 approximately 14 miles north to Sedona (82 miles, 2.5 hours.)
Other great leaf viewing and photography drives include a jaunt up Dry Creek Road to Boynton Canyon Road or a drive around the Red Rock Loop. Dry Creek Road and Red Rock Loop Road are both west of westbound Highway 89A.
---
Best Fall Hike in Sedona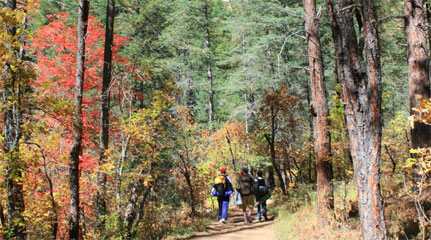 A favorite fall hike is the West Fork Oak Creek trail. Due to the Slide fire in 2014, the density of the trees may be slightly less than usual, but it's still the best trail to enjoy the gold and crimson leaves of fall along Oak Creek. You'll be walking between the gently flowing Oak Creek stream and the steep walls of the canyon, while surrounded by the fall colored leaves chattering in the wind. This truly a beautiful and magical place, so please take extra care to not litter.
Location:
17.5 miles south of Flagstaff (9.5 miles north of Sedona) on paved roads in scenic Oak Creek Canyon.
GPS: N34° 59' 25.3314", W-111° 44' 14.244"
Access: Drive south 17.5 miles south from Flagstaff or north 9.5 miles from Sedona to about halfway between milepost 385 and 384. The trailhead is on the west side of the highway down a paved lane that leads behind a few creekside houses. Park at the Call O' The Canyon day-use area.
Rating: Easy
Hiking time: 2-3 hours round trip
Notes: No mechanized vehicles in Wilderness.
This trail can become extremely crowded, especially on summer weekends.
It will be closed during times of high fire danger, usually in late June.
Dogs must remain leashed at all times.
---
1. Pink Jeep Tours Sedona's Most Popular Tour
Hang on tight for a fun-filled adventure that leads you on and over the red rocks in a cutting edge
...
More
2. Arizona Outdoor Adventures
Drive our ATVs on a guided 40 mile off-road adventure through the West Sedona Valley. Bring your cam
...
More
3. Flagstaff Extreme Adventure Course
Flagstaff Extreme Adventure Course is an elevated obstacle course set in the tall Ponderosa Pines
...
More
4. Sedona Trail Zen
Sedona Trail Zen makes adventure accessible for everyone! Our guided hiking excursions take you to
...
More
5. Sedona Scenic Tour From Viator
Book this tour with Viator. This is a perfect tour to take when you first arrive in Sedona. On this
...
More
6. Sedona Day Hikes & Sunset Hikes
Take a fall hike with us! A few things about how we operate: 1) first all of our day hikes are priva
...
More
7. Sedona Hiking App
Take a Hike! The Sedona Hiking App currently has over 100 trails, three hundred and sixty miles o
...
More
8. Predator Zip Lines
Experience the wind ripping through your hair on a thrill ride over nature's wildest predators.
...
More
9. Out Of Africa Wildlife Park
Come see Tiger Splash show at 1:15 every day. Watch Bengal tigers in natural play as they "hunt" the
...
More
10. SEDONA WINE & BEER TOURS BY SEDONA DELIVERS, LLC
Experience the best wines Arizona offers with our private, customized, wine tours. Learn about uniqu
...
More
11. Red Rock Balloons
Come fly the Red Rocks! Take an "Aerial Nature Walk" which is a truly magical feeling of soaring gen
...
More
12. Half-Day Polaris Slingshot Rental from Sedona
Sedona slingshot rentals is a new an exhilarating way to see the sights all around Sedona. Explore v
...
More
13. Grand Canyon Day Tour
Voted on Trip Advisor as the most popular Grand Canyon day tour. This is the best way to enjoy th
...
More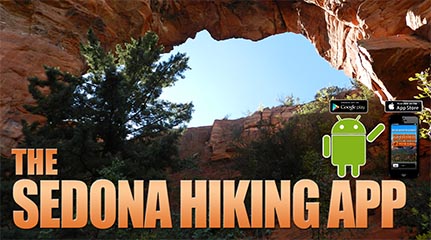 DOWNLOAD THE SEDONA HIKING APP
This app has over 100 trail maps available with more on the way! Follow your location in real time and always know where you are on the trail.
More App Info »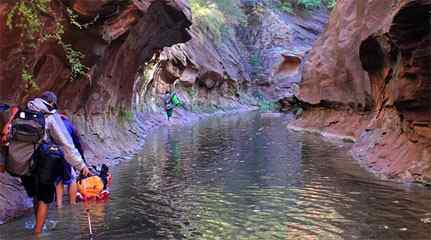 HIDDEN SEDONA - THINGS YOU MIGHT MISS IF YOU'RE NOT LOOKING
From blackberry picking along Oak Creek Canyon and adventure hikes, to quiet, tucked away lunch patios; Hidden Sedona is the best of Sedona.
See Hidden Sedona »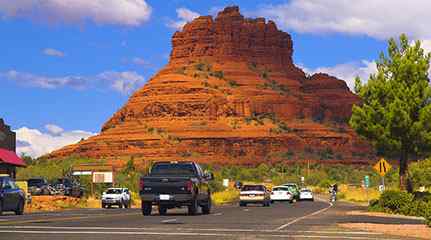 PARKING AND TRAFFIC IN SEDONA
When you visit Sedona, you may experience "Red Rock Gridlock." Read insider tips on avoiding traffic, parking, and the Red Rock Pass.
Learn to Avoid Red Rock Gridlock »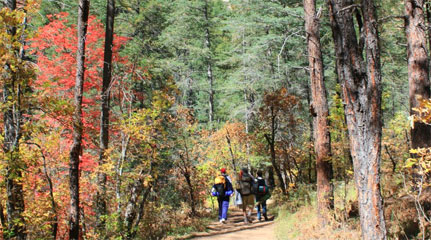 BEST SEDONA DAY HIKES
Experience Sedona up close by hiking through the red walled canyons or up to a vortex point on a hilltop. It's even more beautiful than you imagined.
See Sedona Hikes »