Family-Friendly Hotels
The red rock landscape surrounding Sedona is a natural playground for kids, and it tends to make adults a little playful too. Many of the hotels are located by well-known rocks and you can get your kids involved by having them search for the landmarks. Snoopy, Bell Rock, Steamboat and Coffee Pot Rock are all easily identifiable.
When you arrive at a Sedona hotel with children, the staff know you're going to be looking for things to keep them busy and they're usually quite helpful. Some accommodations are by the creek and offer easy hikes, or access to playgrounds; a few have night watching areas with telescopes where you can scan the night sky. Most also supply their guests with free internet; and quite a few have mini-golf courses. Many of the hotels in Sedona have pools where you can attempt to tire out the children. Getting kids to tire out before you do isn't easy; we always end up exhausted in a deck chair, but it's good fun to try!
If you base your stay out of Uptown, you are within easy striking distance of Slide Rock State Park, the Trout Farm and Midgley Bridge which are all located up Oak Creek Canyon. Hotels located in West Sedona may be away from some of the touristy shops and restaurants, but Sunset Park is nearby, as is Harkins Theaters and the main grocery stores. Heading west of Sedona you can visit Out of Africa on a daytrip.
Popular Family-Friendly Hotels & Lodging
---
1. Lo Lo Mai Springs
Secluded camping, RV, and cabin sites with a mile frontage on the banks of famous Oak Creek. This 27
...
More
2. Arroyo Pinion Hotel
This Freshly Renovated Boutique Sedona hotel is located near the Thunder Mountain, Lizard Head, Chim
...
More
3. Hilton Sedona At Bell Rock
A magical location, stunning landscape with sweeping vistas: Hilton Sedona at Bell Rock is your idea
...
More
4. Butterfly Garden Inn
The Butterfly Garden Inn, formerly Don Hoel's cabins, is the perfect destination for individuals, fa
...
More
5. Best Western PLUS Inn Of Sedona
Save on your accommodations by booking the one of our money-saving vacation packages. Packages inclu
...
More
6. GreenTree Inn Sedona
GreenTree Inn Sedona is located just minutes from downtown, just off State Route 89A. Our beautifull
...
More
7. Oak Creek Mobilodge
Oak Creek Mobilodge is on the banks of famous Oak Creek, shaded by an abundance of mature Sycamor
...
More
8. Forest Houses Resort
Forest Houses Resort is situated on 20 wooded acres in upper Oak Creek Canyon. The resort is separat
...
More
9. Pine Flat Campground
The Pine Flat Campground is located in the beautiful Coconino National Forest and is a great spot
...
More
10. Southwest Inn At Sedona
The Southwest Inn at Sedona, Arizona offers casual lodging with upscale amenities found in many S
...
More
11. Family Friendly Suites Sedona Real
Our family-owned and operated inn feels different from other Sedona hotels because it is. When you'r
...
More
12. Page Springs Resort & Park
The Page Springs Resort is located in Cornville, Arizona, sitting on the banks of the beautiful O
...
More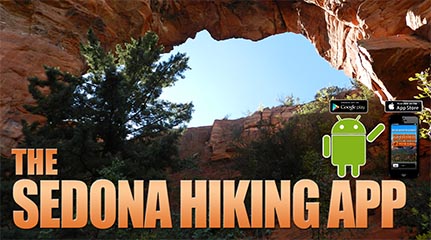 DOWNLOAD THE SEDONA HIKING APP
This app has over 100 trail maps available with more on the way! Follow your location in real time and always know where you are on the trail.
More App Info »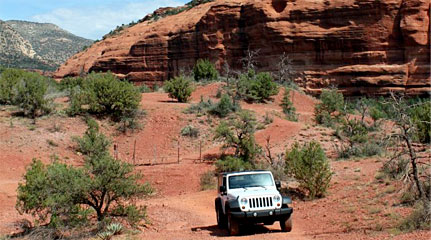 GET OUTDOORS
Rent a jeep for the day or have someone guide you on a jeep tour! Experience why this is the favorite modern Wild West Sedona adventure.
Sedona Outdoor Recreation »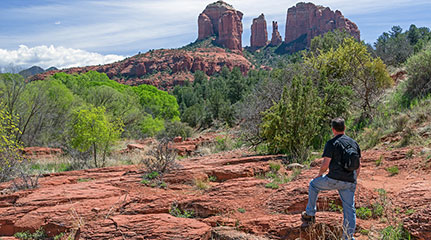 SEDONA ON A BUDGET
Secrets to visiting Sedona for less. Tips on where to stay, what to do, and where to eat on a budget. Save Money on Your Sedona Trip »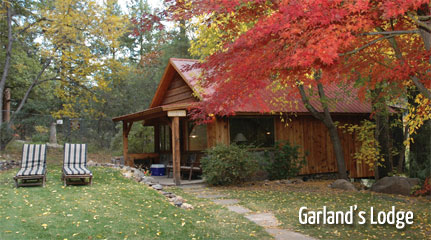 SEDONA CABINS & BED AND BREAKFASTS
Sedona cabins along Oak Creek and bed & breakfasts hidden at the foothills of the red rocks are the perfect escape for your Sedona, AZ vacation. Where to Stay in Sedona »