Hiking Trails Sedona: Sedona Hiking App with 100 Trails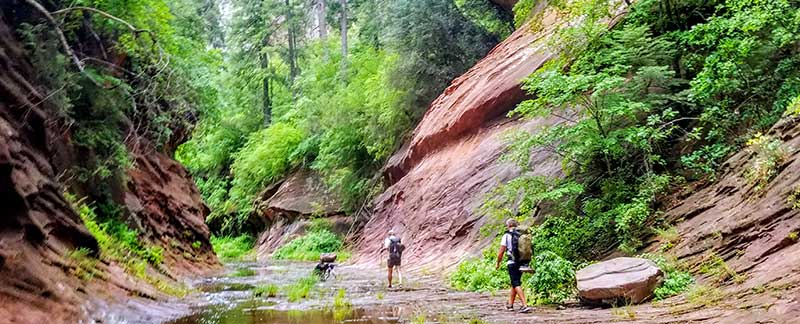 Sedona's moderate weather is calling out to people from all over to come hike, enjoy and explore the beautiful red rocks. Hiking, mountain biking, rock climbing, and outdoor yoga season can be year-round!!
If you're tired of the crowds on hiking trails or don't want to have to be at a trailhead by 4am just a little solitude in nature, consider downloading this app. One of the most asked questions on Sedona.net is "What are the best hikes in Sedona?" Our answer is that it really depends on what you're going for and your level of fitness. Everyone knows about West Fork in the fall, Cathedral Rock for amazing views, Devil's Bridge for the iconic IG photo, or Bell Rock for yoga since it is a vortex. Our suggestion is to go explore some trails you've never been to!
Our friends at Wasatch Tech have developed an app called Sedona Hiking App that has 100 trails that you can access offline. With 360 total miles of documented GPS trails in and around the gorgeous red rocks of Sedona, the App enables you to follow your progress on a hike without getting lost. No cell service is needed. You can enjoy the hike knowing the hike's distance, difficulty, description, approximate time to hike, and elevation in order to pick the hikes best suited to you. You can even follow your progress with real-time GPS location on the trail screen.
If you're a Sedona regular and think you've done it all, or even if this is your first time visiting, this App opens up a hundred new possibilities (minus the trails you've already hiked) and is a really cool way to safely go exploring. The directions to the trailhead are clear and the descriptions of the trails' difficulty are accurate.
With these extra months of warm weather in the Southwest, you'll be tempted to spend more time hiking and playing outdoors in Sedona. This Sedona Hiking App is a great little tool to help you get moving in the right direction.
Visit the Sedona Hiking App to see a full list of what trails are available, complete with pictures, difficulty, various features, and a glimpse of what the maps are like.
---
ACTIVITIES THAT INCLUDE GUIDED HIKES
---
---
---
---
---