Best Sedona Day Hikes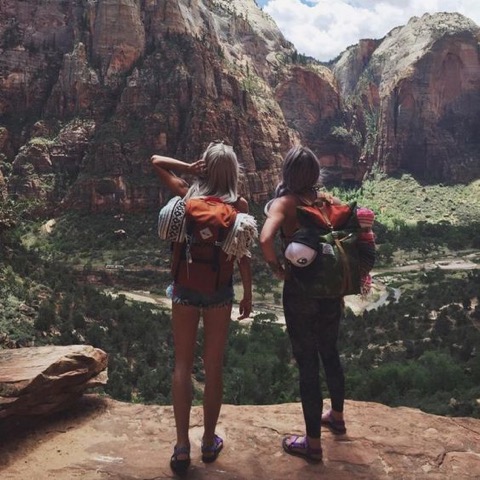 Photo Credit: teva.com
There's a hike for everyone in Sedona; some are breathtakingly beautiful with panoramic vistas, others wind through steep canyons where the only sound is the wind whispering through the Pinon pines. There are casual, shaded hikes that follow the cool growth along Oak Creek, or you might want to push yourself on one that climbs up over the red rocks to the towering heights where Kaibab limestone glints white in the sun.
Sedona's western canyons are great for sunsets. Just past Boynton Pass you can park at the Doe Mesa trailhead and have a choice of two hikes: Doe Mesa is a moderate one-hour ascent (3.6 mile round trip) to a plateau with great views everywhere you look; it's across the street from Bear Mountain. This is no easy hike with an elevation gain of 1,800 feet (6 miles return trip), but the locals will tell you it's the best trail around just bring lots of water and sunscreen.
When it's hot, most of us head for Oak Creek Canyon. At Midgley Bridge you have your choice of three hikes. The Huckaby Trail passes under the bridge and descends down to the creek where you can rest with your feet in the chilly water. You can continue on the trail for another five miles to the trailhead on Schnebly Hill road, or just go back to Midgley Bridge. The Wilson Canyon trail explores the wash upstream, following in the steps of pioneer Richard Wilson who tracked a wounded Grizzly and was then promptly killed by the bear. And finally, the Wilson Mountain trailhead also begins at the Bridge. Here you can ascend right up to the Ponderosa Pine forest that grows on the Colorado Plateau 1,500 feet above, but be warned this hike is strenuous without much shade once you begin.
Even when you hike by yourself in the canyons of Sedona you won't feel alone. The town sits in the middle of 1.8 million acres of National Forest and has a healthy population of animals, including: bobcats, mule deer, javelina, mountain lions and coyotes. For your best chances of an animal encounter, plan to be on the trails either around sunrise or sunset. Many of the trails also pass by ruins or walls covered with rock art and petroglyphs because during the time of the Sinagua, (500 AD and 1425 AD) there were as many as five thousand Indians living in the Verde Valley and the deeper you go into the canyons the stronger their presence becomes.
Use our handy table of trails below to find a Sedona day hike that's right for you, depending on your level of fitness, mood or timetable. You can choose a hike that will take you anywhere from a half-hour to a full day. These trails are accessible and great for hiking year-round. Check out our Weather page for expected temperatures and precipitation during your stay, but regardless of the weather, be sure to wear sturdy shoes, layered clothing, sunscreen and pack plenty of water (1/2 to a full gallon of water per person) and tell someone (your hotel concierge, innkeeper, or non-hiking travel companions) where you're going and when you expect to return.
---
RECOMMENDED HIKES & OUTDOOR ACTIVITIES
---
---
---
---
---