Sedona Slide Rock State Park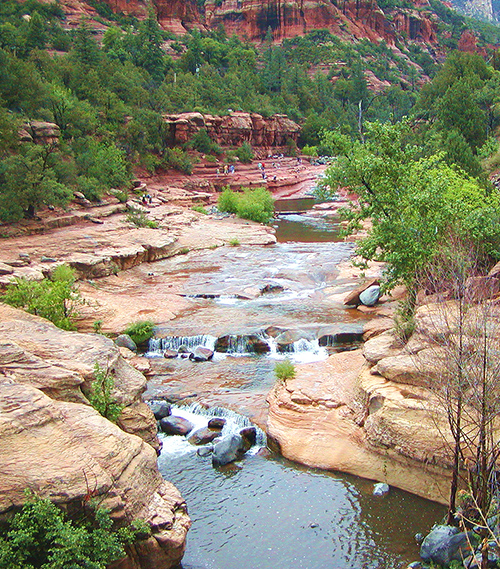 Slide Rock State Park features a natural rock water slide located in Oak Creek Canyon just 15 minutes from Sedona and 40 minutes from Flagstaff. Slide Rock State Park was originally the Pendley Homestead but today is known as one of "America's Top 10 Swimming Holes". But the crisp creek water is not the only draw to the area. Slide Rock State Park is surrounded by famous red rocks and desert scenery. So beautiful in fact, that many movies including "Angel and the Badman" (1946) with John Wayne were filmed there. There are even three hiking trails in the area to explore before you cool off in the water! These include Pendley Homestead Trail (.25 miles), Slide Rock Route (.3 miles), and Clifftop Nature Trail (.25). Slide Rock State Park has all the fun of a water park, with all the natural beauty Sedona is so famous for!
The rock slide area at Slide Rock is 80 feet long and 2.5 to 4 feet wide, with a 7 percent decline from top to bottom. Algae on the rocks creates the slippery ride. Slide Rock includes a 1/2 mile of Oak Creek that is open for swimming, wading and sliding. The world-famous slide that our park is named for is an 80 foot-long slippery chute that is worn into sandstone. Slide Rock State Park,is a 43-acre historic apple farm located in Oak Creek Canyon. Frank L. Pendley, having arrived in the canyon in 1907, formally acquired the land under the Homestead Act in 1910. Due to his pioneering innovation, he succeeded where others failed by establishing a unique irrigation system still in use by the park today. This allowed Pendley to plant his first apple orchard in 1912, beginning the pattern of agricultural development that has dominated the site since that time.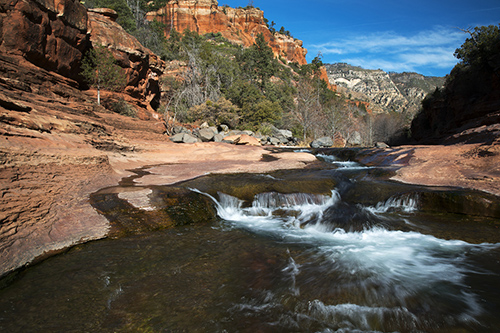 Pendley also grew garden produce and kept some livestock. As one of the few homesteads left intact in the canyon today, Slide Rock State Park is a fine example of early agricultural development in Central Arizona. The site was also instrumental to the development of the tourism industry in Oak Creek Canyon. The completion of the canyon road in 1914 and the paving of the roadway in 1938 were strong influences in encouraging recreational use of the canyon. Hence, Pendley followed suit and in 1933, built rustic cabins to cater to vacationers and sightseers.
Today's visitors can still enjoy the fruits of Pendley's labor. Not only in the orchard but historic cabins are available for viewing, and the creek offers the park's namesake slide for adventures seekers and those looking for a place to cool off.
SLIDE ROCK HIKING: The park has short trails including a nature trail. It is also close to several Coconino National Forest hiking trails. This area is managed on a pack-it-in, pack-it-out basis, and any type of glass containers are strictly prohibited.
NO WALK-INS OR DROP-OFFS. VEHICLE ADMISSION ONLY.
Per vehicle (1-4 adults): $20.00 Monday - Thursday
Per vehicle (1-4 adults): $30.00 Friday - Sunday, holiday Mondays
March 1 - May 24
Per vehicle (1-4 adults): $20.00
October - February
Per vehicle (1-4 adults): $10.00
Motorcycle: Entry fee is 50 percent of the per vehicle fee
Individual/bicycle: $3.00
Pay fast with Visa or MasterCard. Cash users must have exact change.
Last entry one hour prior to closing, swim area closes 1/2-hour prior to closing.
May 1 - Labor Day
Tuesday after Labor Day - October 31
November 1 - January 31
February 1 - April 30
IMPORTANT INFORMATION!
This natural marvel is located in Coconino National forest and managed by Arizona State Parks and the U.S. Forest Service. These organizations work very hard to keep this incredible area clean and safe but they need everyone's help to preserve Slide Rock. Due to its canyon location and the dry environment of Arizona, this area in particular is very much devastated by fires. For this reason please throw cigarettes in the garbage and NOT on the ground. By doing this you are not only preserving Slide Rock but the homes and families that live nearby. There has also been a history of disrespectful tourists setting fires ablaze in the canyon, leaving trash, beer cans, and diapers in the water. To prevent E. coli-bacteria infections the water is tested daily but refraining or reporting such irresponsible behavior is very much appreciated! PLEASE BE RESPECTFUL AND DISPOSE OF YOUR TRASH PROPERLY.
---
MORE SEDONA OUTDOOR RECREATION
---
---
---
---
---
---
---
---
---
---
---
---