Parking, Traffic and the Red Rock Pass
Below are your parking options when exploring Uptown Sedona as well as Park & Ride lots to catch the Sedona Shuttle to the most popular hiking trails.
- Free All Day Parking
- Free Parking with 3 Hour Maximum Parking - Some lots are privately owned with a portion leased by the city. Be sure to observe all employee-only, no parking and other restriction signs. - Pay-to-Park - Spaces located directly in front of the Uptown shops along Main Street, SR89A , require visitors to pay to park.
Pay stations accept coins, bills, major credit cards and pay-by-phone apps.
Pay stations are as easy to use as an ATM. Follow the instructions displayed on the screen or pay by phone using the PassportParking app available from the App Store or Google Play. There is a 10-cent convenience fee to use the app.
Pay-by-phone users who sign up for the app and enter Parking Zone 846 can skip the pay station.
Enter your license plate numbers and letters when prompted.
A reminder text message option notifies you that your time is about to expire with the option to extend meter time by phone, even without using the app.
The cost to park varies with seasonal fluctuations in visitation. The pay schedule will be clearly visible when you park.
- Park & Ride Sedona Shuttle
- Free shuttle to the most popular trailheads in Sedona
Tips and Regulations
Never leave a child or pet unattended in a vehicle, even for a minute. Although the outside temperature may be mild the interior of a vehicle heats rapidly, even with the window left slightly open.
Lock your vehicle and secure all valuables out of sight.
All lots are handicap accessible. A handicap license plate or placard does not exempt you from paying parking fees or allow you to park illegally.
RVs and motorhomes must park in designated spaces and may not park parallel across parking spaces designated for standard vehicles.
Sedona Shuttle
Park & Ride to the Most Popular Trailheads
The free, easy and eco-friendly way to explore some of Sedona's favorite trails! Shuttles run year-round, Thursday thru Sunday 7:00 AM to 5:30 PM during the summer months.
Sedona Shuttle provides transportation from two Park and Ride lots to popular trailheads:
Trailheads Served by Sedona Shuttle
Cathedral Rock
Little Horse
Soldier Pass
Dry Creek Vista, with access to Devil's Bridge
Mescal
Note: During days and hours when the shuttles are running, the parking lots at the Cathedral Rock and Soldier Pass Trailheads will be closed. All visitors are asked to use the shuttle to access these trailheads. Outside of shuttle hours, the trailhead parking will be open. Parking at all other trailheads will be open as determined by the National Forest Service.
Shuttle Info:
Cost: Free to park and ride. No Red Rock Pass is necessary.
Pets: Only service animals are allowed on the shuttle. Service animals are defined as "any guide dog, signal dog, or other animals individually trained to work or perform observable tasks for an individual with a disability.
Bikes: Shuttles are equipped with a bike rack to carry 3 bikes at a time. These are available on a first-come, first-serve basis. If there is room in the vehicle, additional bikes may be accommodated in the wheelchair positions inside the bus.
For more detailed information, please go to the Sedona Shuttle official website.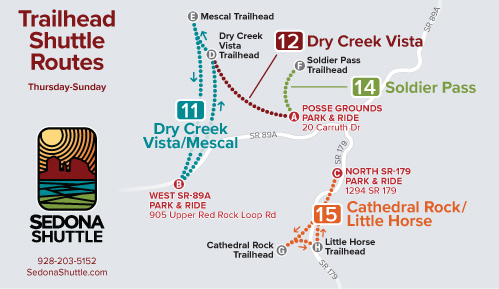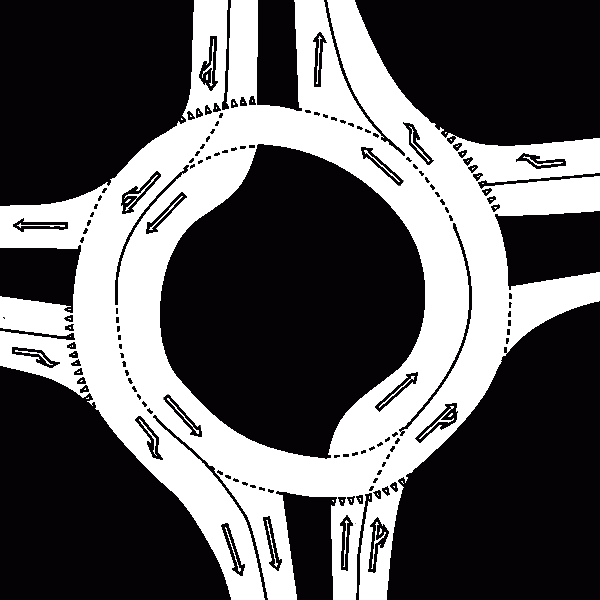 Roundabouts are designed to make intersections safer and more efficient for drivers, pedestrians and cyclists. There are two types of roundabouts: Single-lane roundabouts and multi-lane roundabouts.
There are a few key things to remember about driving roundabouts:
Yield to drivers in the roundabout
Stay in your lane; do not change lanes
Do not stop in the roundabout
As you approach a roundabout, slow down and watch for pedestrians in the crosswalk. Look to your left as you near the entrance to the roundabout. Yield to traffic already in the roundabout. Once you see a gap in traffic, enter the circle and proceed to your exit. If there is no traffic in the roundabout, you may enter without yielding. Look for pedestrians and use your turn signal before you exit, and make sure to stay in your lane as you continue around the roundabout. Staying in one's lane is particularly important in the two multi-lane roundabouts you'll encounter in Uptown Sedona at the "Y". Get familiar with the lay of the land in Sedona before you go, so that you can prepare yourself to be in the correct lane at these two busy traffic circles. You'll likely want to stick to the outermost lanes so you can safely exit right out of the roundabout to get to Uptown, the Shops at Pinon Pointe, or Tlaquepaque.
Sedona is surrounded by lots of National Forest Service land, so if you want to hike, picnic or just get up close and personal with the red rocks, you will likely need to purchase a Red Rock Pass for parking and access. Red Rock Passes are $5 per day, $15 per week or $20 per year and are available at Sedona's visitor centers, trailheads and many businesses and hotels in town.
---
YOU MIGHT BE INTERESTED IN THESE SEDONA THINGS TO DO & PLACES TO STAY
---
---
---
---
---
---
---
---
---
---
---
---