Oak Creek Canyon
Oak Creek Canyon is located on Highway 89A between Sedona and Flagstaff. (Not to be confused with the Village of Oak Creek, which is south of Sedona on the way into town from Phoenix. We know, it's confusing.) Oak Creek Canyon is quite possibly one of the most beautiful and scenic stretches of Arizona you can drive. Oak Creek Canyon is about 12 miles long with towering canyon walls that range from 800 to 2000 feet. In contrast to the desert red rocks of Sedona and the alpine forests of Flagstaff, this little stretch offers its own little micro-environment consisting of a crystal clear creek lined with smooth river rocks. blackberry bushes, and lush, green, oak trees with leaves that transform into vibrant yellow, orange, and red leaves in the fall; a not-so-common sight in this part of the country thus making it one of the most popular places to see fall colors in Arizona.
It's also one of the most beloved places to spend summers for people who live in surrounding areas. Oak Creek Canyon has several swimming and fishing holes, and those same beautiful trees that change colors in the fall offer shade from the heat when Sedona heats up in the summer. Its incredible scenery also makes it popular for camping as there are several designated camping sites along the water. If camping isn't for you, take advantage of some of the cozy cabins and vacation homes you'll find in the area. Oak Creek Canyon is quaint with very few commercial businesses other than bed and breakfasts, other types of boutique lodging, a small general market, and a few places to eat. This can be a welcome change of pace from the crowds of Sedona.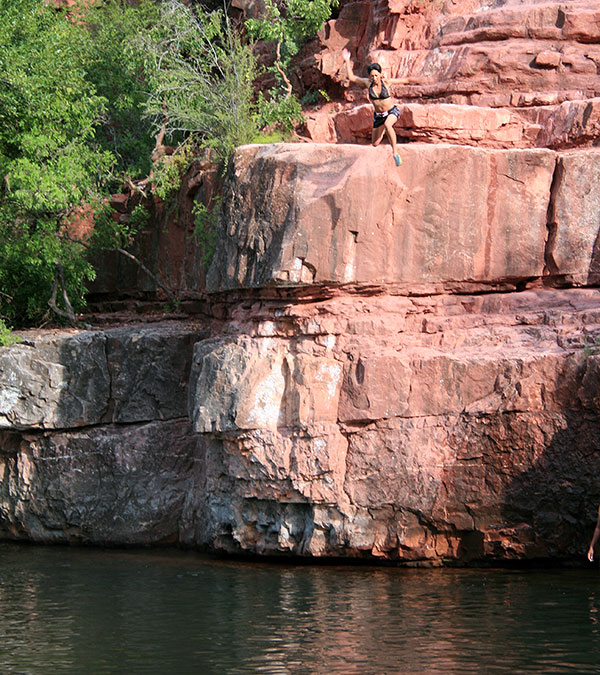 Not to say that Oak Creek Canyon doesn't get incredibly busy during summer days! You'll find cars parked along the side of the highway for miles. So if you're planning on visiting Slide Rock, Grasshopper Point, West Fork Trail, or even your favorite secret swimming hole or bouldering area, you'll have to come early to find parking.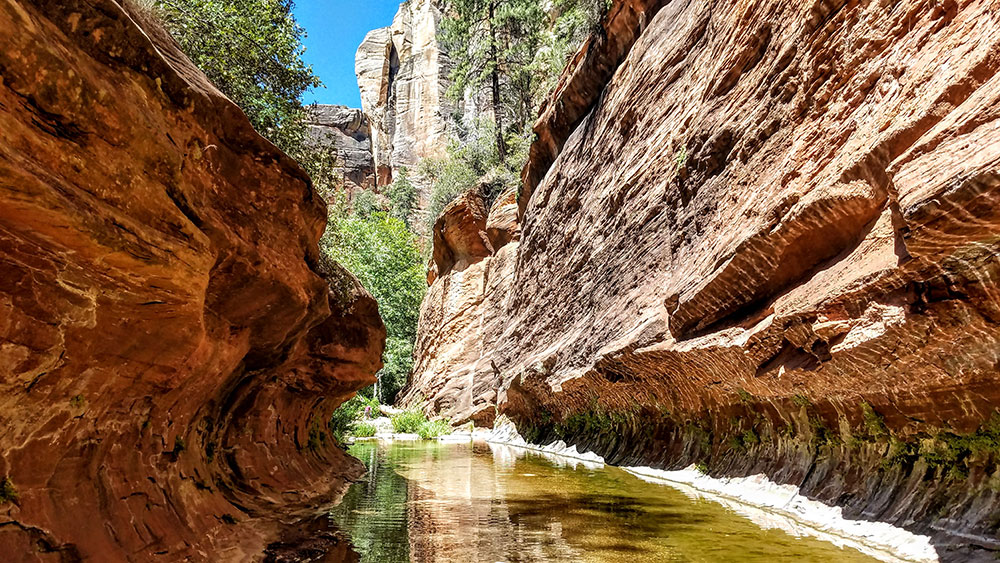 Top Things to do in Oak Creek Canyon
---
Oak Creek Canyon Hotels, Cabins, & Vacation Rentals
---
FEATURED LODGING & DINING ON THE CREEK
---
---
---
---
---
---
---