Sedona Farmers Market
The Sedona Community Farmers Market is focused on supporting local agriculture, sustainable growing, and building the community. They do this by providing a venue for local growers to sell their goods. By doing this Sedona has more locally grown food and a place for the community to come together. Sedona's farmers market holds on site farm inspections twice per season to ensure the quality of the food being provided to you. All farmers also are required to have a Certificate of Completion for USDA's GHP/GAP educational programs.Also, everything you can find at this market was grown directly by the farmers due to the fact that the Sedona Community Farmers Market doesn't allow resale of any of its products. Come check out this amazing opportunity to get connected to the community while buying food that is healthy and delicious!.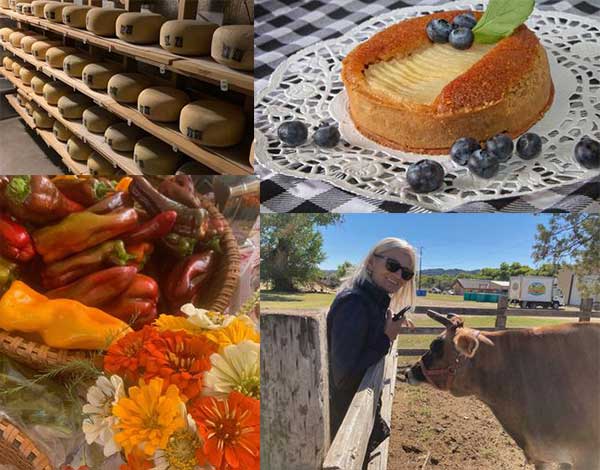 Winter Season 2021-2022
Starting October 24, 2021
When: Sundays 11am to 3pm
Location: West Sedona at Wells Fargo Bank - 2201 W. SR 89A
Visit https://sedona-farmers-market.com/ for the most up to date vendor, event and seasonal info.
Winter Season Announcement
We are super excited to open our Winter Season this Sunday, October 24th from 11am - 3pm in W Sedona at Wells Fargo Bank parking lot 2201 W SR 89A! Live music with Tobie LaVoie and Friends. We are delighted to introduce new vendors: Sandra from Ma Petite Patisserie with gluten/dairy-free traditional, delicious pastries and breads from her home country, Jessica, a zero-waste educator. Kirkland AZ's Hassayampa Farm with delicious Hassiago raw milk cheese aged 120 days made from grass-fed and pastured Jersey cows (sold by Jeremy w artisan rye sourdough). Please welcome Alexa w Gaia Bowls, homemade gluten-free, keto-friendly granola and trail mix, she is proud to keep a zero plastic kitchen, Robin from ToolGirl Creations w prickly pear cactus butter and pure unsweetened cactus juice. Welcome back to Wingfield Bakery, which took the summer off to move their bakery into a commercial building in Camp Verde. Also please welcome Matteo Zacchino with Vespa Healthy Cafe offering hot low gluten pizza made with local veggie toppings. We are thrilled Eric from AZ Sweet Greens is back to bring us the freshest microgreens after overcoming a health scare. Welcome also to Falah Yaqoob from Royal American Palace offering authentic cuisine from his home country.
Returning vendors are Lucky B Acres, Sunnyside Farm, Beloved Crazy Goat Lady, Payne Gulch Raw Honey, Artisan Rye Sourdough, Living Wisdom Breads, Los Reyes Family Farm, Love's Gathering, Dry Bay Alaskan Fish Company, Hernandez Family Farm, Carol's Delectables, Simply Succulent Ornamental Succulents, Thunderfoot Seeds, Oak Creek Apple Company, Sun Valley Mushroom Harvest, Los Muertos Salsa, Barbed J Beef, Strong Mouse Lamb, Oak Creek Family Farm w baguettes and organic sourdough, Conscious Meals with vegan smoothies/snacks to go & herbal medicinal teas, Kombucha by Zoe and Scot, Wellphora, and much more....
---
OTHER ACTIVITIES NEAR SEDONA
---
---
---
---
---
---
---
---
---
---
---
---
---
---
---
---
---
---
---
---
---
---
---
---
---
---
---
---
---