Sedona Weather: What to Pack
So you're planning a Sedona vacation but you don't know what to pack, right? Sedona, Arizona's weather is mild and pleasant year-round and Sedona has a casual atmosphere that generally doesn't require anything fancier than active, breathable, and comfortable clothing. And jeans. Jeans will take you from morning til night in Sedona. Don't forget your jeans. Here is our guide to Sedona weather and what to pack in each of the four visitor seasons. Be sure to check out our Insider Visitor Tips, our visual packing list, and the table of Sedona weather by month, including average temperatures.
Spring Season – March through May
Spring is Sedona's busiest visitor season and it's easy to see why. With average high temperatures in the mid-60s to low 80s (degrees Fahrenheit) and lows that are refreshingly chilly, it's perfect weather for Sedona's outdoor activities like hiking, jeep tours, and shopping in Uptown Sedona. Pack light layers like long pants (or shorts, if you choose) long-sleeved t-shirts, and light sweaters and jackets. You will want and need close-toed shoes for walking around town as well as hiking, horseback riding or other outdoor recreation. You'll want to peel off your outer layers in the middle of the day, but you'll need them again as you begin to experience the spectacle of Sedona's evening entertainment: an explosively colorful sunset behind Sedona's red rocks. Insider Visitor Tip: Be sure to book your Sedona tour or activities several months in advance. You don't want to miss out on the most popular activities during this, Sedona's busiest season.
Summer Season – June through September
Summer is a great time to visit Sedona because the weather is warm but not nearly as hot as the infamous triple-digit days typical for Phoenix, Scottsdale, and the rest of the Valley of the Sun. In fact, summer is the season for Valley residents to escape to Sedona and find relief in the 90-degree weather! Pack plenty of tank tops or short-sleeved shirts, shorts, and sandals for walking around town. You'll still want close-toed shoes or boots for any Sedona tours or activities like horseback riding. Be sure to bring your swimsuit, towel, sunscreen, and water shoes so you can wade along in Oak Creek, especially if you visit Slide Rock State Park – the area's most popular section of Oak Creek for swimming, wading, and of course sliding! Insider Visitor Tip: A handful of summer art and music festivals take place in August and September every summer, so check out our Calendar of Events for dates and details.
Fall Season – October through November
Fall in Sedona means changing leaves against a red-rock backdrop, harvest activities, and of course, perfect Sedona weather. Average high temperatures are ideal at the mid-60s to low 70s and the evenings are as crisp as the first bite of a hand-picked apple. Pack light layers including shorts and pants, short and long-sleeved shirts, and a light sweater or jacket for evenings. Again, sandals are comfortable for daytime activities in town but shoes or boots are your best choice for recreational activities. Insider Visitor Tip: Do not let your autumnal visit be limited to just Sedona. Be sure to check out towns surrounding the area – known as the Verde Valley – like Prescott, Camp Verde, Cottonwood, and Clarkdale, and definitely head up north to Flagstaff. There are dozens of quintessential small-town fall festivities like hayrides, apple picking, Oktoberfests, train rides, pumpkin patches, and trick-or-treating mischief.
Winter Season: December through February
Sedona in the winter is a must-do for several reasons: the fewest crowds of the year, red rocks dusted with white, but very little snow on the ground in town which makes driving and other outdoor activities easily doable. Sedona's winter weather still hits relatively warm highs of the mid-50s and 60s with chilly evenings perfect for cozying up next to your bed & breakfast's fireplace. Warmer layers are the way to go with long pants, long-sleeved shirts and sweaters, fleece pullovers or sweatshirts. You may want a light jacket as a top layer and shoes or boots are the best choice for footwear. Pack your camera and be sure to take photos of Sedona and Oak Creek covered in ice and snow… at about 5,000 feet in elevation, Sedona is exceptionally stunning in winter. Insider Visitor Tip: There are relatively few visitors to Sedona in the winter months, but there's no reason to stay away! In fact, Sedona couldn't be better when you have the destination practically all to yourself! Do spend your holidays in Sedona… let the hosts of a quaint Sedona bed & breakfast wow you with festive decorations, food, and hospitality. Be sure to participate in a handful of holiday events like the Red Rock Fantasy festival of lights, the lighting of 6,000 luminarias at Tlaquepaque, Christmas caroling, Santa Claus-themed train rides, and more.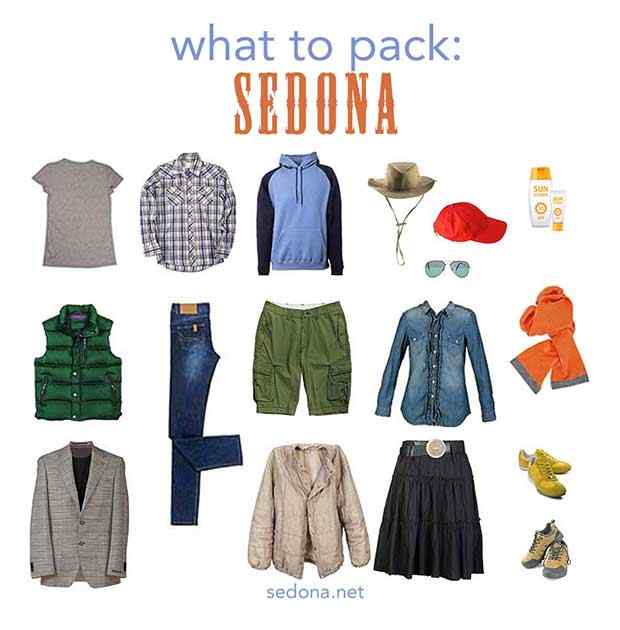 There you go! A visual packing list for what to wear in Sedona in almost every season. Starting from the top left: 1. A cotton t-shirt is layer numero uno. 2. A long-sleeved shirt can be worn as a jacket in warmer months. 3. The workhorse of any layered wardrobe: The Hoodie. 4. A wide-brimmed hat or baseball cap. 5. Sunglasses. 6. Sunscreen. Everyday. Higher altitude means stronger UV rays. 7. A vest is a good alternative to a jacket. 8. Jeans, jeans, jeans, jeans, jeans. Always the jeans. 9. Shorts, because it can be unusually warm in the fall and spring. 10. If you feel you must get gussied up, Ladies, a denim shirt and skirt will do just fine. 11. A scarf can keep you warm but not too warm. 12. Gentlemen, a sport coat and open-collared shirt (and jeans) is as dressy as it gets. 13. A waterproof outer layer. 14. Athletic shoes and hiking/walking boots.
Now you're all set for your Sedona vacation! You know what to pack and what to do to take advantage of Sedona, Arizona's weather, casual culture and insider tips.
---
FAVORITE SEDONA HOTELS & ATTRACTIONS
---
---
---
---
---
---