Sedona Mountain Bike Festival
Every March the Sedona Mountain Bike Festival welcomes thousands of mountain bikers to enjoy hundreds of miles of singletrack trails through the red rocks of Sedona. This three-day festival of mountain bikes, beer, food trucks and music all take place in one glorious location with incredible weather - and it just keeps getting bigger and badder each year.
Other festival perks include demo bikes, skills clinics, tech talks, and of course, hanging out with others from around the world who share the same passion. But seriously, Sedona's weather is perfect this time of year with plenty of sunshine. It's hands-down the best way to kick-off mountain biking season!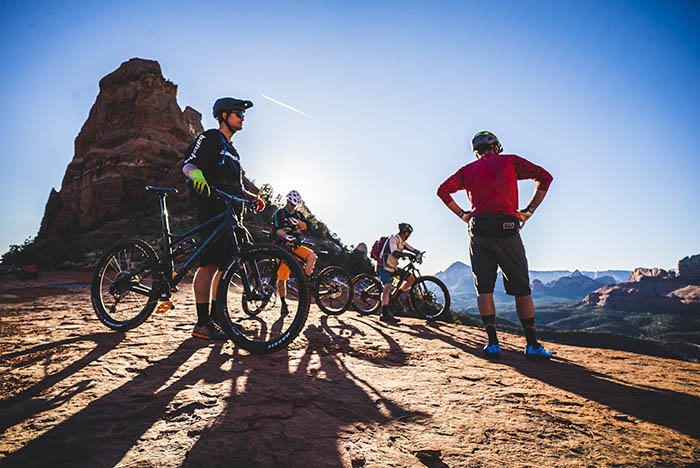 Bringing the whole family? Even if your family doesn't mountain bike as well, Sedona has a lot of things for the whole family to enjoy. From hiking, taking a day trip to the Grand Canyon, going on a jeep tour through Sedona's red rocks to seeing ancient ruins or eating ice cream while strolling through unique shops in town, there's an adventure and good times to be had by all.
Another fantastic thing about Sedona is that there are accommodations to fit everyone's needs. From tent and RV camping to staying at the most luxurious Sedona resorts, you'll find it all. You can camp on Oak Creek, go fishing and drink from a fresh spring; or you could go for your ride and get a massage after at your luxury hotel spa with your partner in one of the most scenically breath-taking places you'll ever visit. Sedona is also known for its healing energy and multiple vortex locations. Therefore, it attracts physical and spiritual practitioners from all over the world. There are probably as many massage therapists and spiritual healers here as miles of mountain biking trails. And that's saying something!
If you're a mountain biker, this is a festival you won't want to miss. Everything from mountain biking to the friendships forged by conversations that go late into the night at the local pubs with fellow festival-goers, the Sedona Mountain Bike Festival is definitely one to experience.
You can register for the Sedona Mountain Bike Festival here: https://sedonamtbfestival.com/
---
MORE NEARBY OUTDOOR RECREATION
---
---
---
---
---
---
---
---
---
---
---
---
---