Sedona Jazz and Wine Festivals Kick Off with "Jazz It Up" Benefit
The season for fall festivals is underway. Kick off the Sedona Jazz Fest and 10th Annual Sedona Winefest this weekend, September 21-23, 2018, in Sedona with the 1st Annual "Jazz It Up Sedona" Music Festival at Sound Bites Grill. "Jazz It Up Sedona" is 3 nights of music featuring Steinway pianist, Louis Landon and his Jazz Trio; Palm Springs based Groove Jazz Saxophonist, Will Donato; and International Jazz super star, JJ Sansaverino, from New York. You will also enjoy classics and jazz standards, and original compositions from the Louis Landon Trio including Troy Perkins and Ed Barattini. Louis Landon has toured nationally and internationally, playing classical music for Mikhail Baryshnikov; jazz fusion with The John Payne Band; Latin music with "Pucho and his Latin Soul Brothers"; pop music with Rupert "Pina Colada Song" Holmes; rock and roll with John Hall, opening for "Little Feat".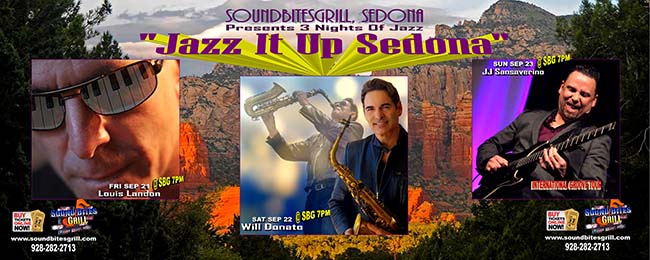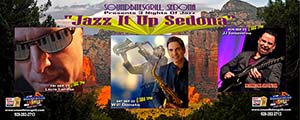 Friday night, September 21st, is a Grand Opening Benefit that will benefit the Verde Valley Wine Consortium, which is a Wine producer's trade organization that promotes, enhances and connects every part of the wine community in the Verde Valley. Doors open at 6 p.m. with appetizers, wine tasting from Arizona produced wines- Caduceus, Chateau Tumbleweed and Alcantara Vineyards; There will be a gourmet dinner served from 6:30 – 8:30 p.m dinner including carved New York strip, fresh salmon, Cornish game hen, salads, fresh vegetables, homemade desserts & Flambé' Banana's Foster accompanied with live music by the Louis Landon Jazz Trio and dancing. Sound Bites Grill will be raffling off 2 tickets to the Wine and Dine in the Vines event happening in October at the Yavapai College.
Saturday night, September 22 at 7 p.m., jazz saxophonist, Will Donato, returns to Sedona for his second concerts in the red rocks. Doors open at 5:30pm so you can come early and enjoy dinner before the show.
Will's newest CD release SUPERSONIC is creating an enormous LOVE for this amazing Saxophonist. This new project features some of the most talented people in contemporary groove music – musicians, engineers, and creative artists, including: Jeff Carruthers, Craig Chestnut, Byron Counts, Dave Donnelly, Tony Guerrero, Don Hoeber, Chase Huna, Tateng Katindig, Rod King, George Landress, Kay-Ta Matsuno, Tony Moore, Steve Oliver, Christian Poezach, Darren Rahn, Eddie Reddick, JJ Sansaverino, Gary Stanionis, Eric Valentine, Roberto Vally, and Darryl Williams!
Will Donato is one of music's most dynamic performers, gifted with the ability to bond and connect with his audiences. Will can also be heard as on the soundtracks from several movie scores including "Thelma and Louise," "The Wedding Planner," "Under the Boardwalk,"and "No Man's Land."
The finale: Sunday Sept 23 at 7 p.m., plan to experience Billboard charting Jazz superstar JJ Sansaverino, guitarist from New York City, and his all-star band live in the Celebrity Show Room at Sound Bites Grill.
This CD release party will debut music from his new CD "International Groove"featuring the powerful ballad "To My Valentine"written in Sedona.
Guitarist JJ Sansaverino is an absolutely incredible performer. He has a "take no prisoners"performance attitude and his musical style, is a mix of R&B, smooth jazz and fusion ala Santana meets Benson.
He has reached millions with his music, touring the World for the last 25 years. He has worked with the best in the business in a wide range of idioms, both live and in the studio and has appeared on hundreds of recordings.
His latest singles "Back Talk"and "Gravy Train"have topped the radio charts climbing on Billboard, Smooth Jazz.Com and Groove Jazz. JJ continues to perform with reggae legend Maxi Priest, while simultaneously touring with his own band.
Tickets for the "Jazz It Up" kickoff party are $75 per person including dinner, wine tasting and music. Visit for more info and to purchase tickets.
Tickets and more information for all three events are available at www.jazzitupsedona.com or by calling 928-282-2713. Sound Bites Grill is located at the Hyatt Pinon Pointe Shops in uptown Sedona.
What:
Jazz it Up Sedona Music Festival
Where:
Sound Bites Grill, 101 N State Route 89a, Sedona 86336
When:
Sept 21-23, 2018
Contact:
SoundBitesGrill.com
or 928-282-2713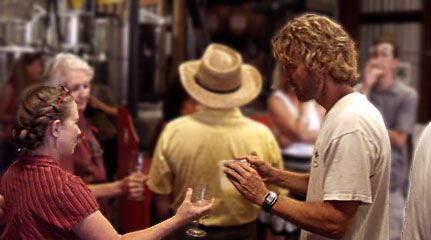 ARIZONA WINE COUNTRY
Sedona, Page Springs and Cornville are the beating heart of Arizona's wine country. Come taste the emerging hotspot vying for Napa-like status. See Sedona Wineries »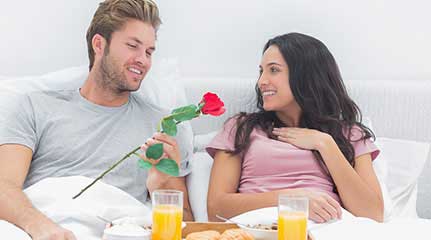 YOUR ROMANTIC SEDONA GETAWAY
Stay at a luxury resort spa with fine amenities or at a well-appointed B&B near the creek. Enjoy a couple's massage followed by a romantic dinner. See Romantic Getaways »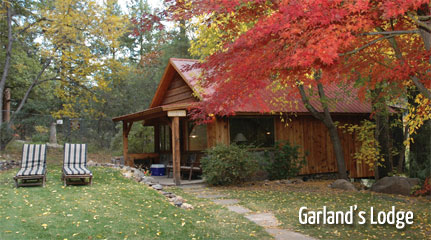 SEDONA CABINS & BED AND BREAKFASTS
Sedona cabins along Oak Creek and bed & breakfasts hidden at the foothills of the red rocks are the perfect escape for your Sedona, AZ vacation. Where to Stay in Sedona »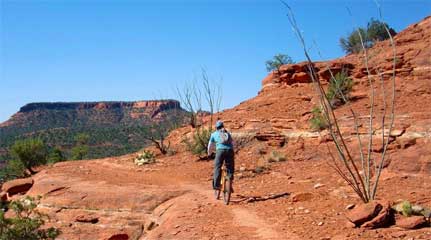 SEDONA FOR OUTDOOR ADVENTURE LOVERS
Sedona has some of the most scenic mountain biking trails, rock climbing routes and refreshing swimming holes in the great Southwest.
See Outdoor Adventure Ideas »