Things to Do in Sedona - Fun Ideas, Tours & Sightseeing
Many visitors come to Sedona, enjoy the red rock views, take pictures, walk around town, shop and dine. Those are great things to do in Sedona, but there's so much more to experience! Take a guided tour of your choosing and you won't regret that you did.
Explore petroglyphs on sandstone by way of a Jeep romping over boulders. Look down at Sedona from a hot air balloon and realize there's more than a few ways to have a spiritual experience here. Helicopter rides are one of the best ways to view more of Sedona than you ever knew existed, and let's not forget river trips down to the vineyards for afternoon wine tastings. Yes, there is so much to do in Sedona, AZ! Don't limit yourself to just strolling around the town. Tour guides are knowledgeable, entertaining and can offer perspective that's acquired only by interacting with the great outdoors first-hand.
If you're planning on visiting the Grand Canyon on this trip, check out Grand Canyon tours from Sedona. There are a few shuttles and air tours that leave directly from Sedona for your convenience!
Sedona attractions that often top the "must see in Sedona" lists are Tlaquepaque Arts and Crafts Village, Sedona vortex spots, Oak Creek River, Slide Rock State Park and the shops in Uptown Sedona. While those are well worth visiting, there are many other Sedona, Arizona attractions that are equally worth checking out but are not as well known.
Also Sedona attractions don't have to be boring for kids and fun for adults or visa-versa. Go see nature and wildlife parks; go on a Sedona vortex hike; participate in authentic Western experiences; explore space and night night sky; when sightseeing, take advantage of opportunities like Jeep tours in Sedona; visit historical landmarks; state parks and recreation areas. There is always more of Sedona to explore.
Want to know where you can do these things? Take a look at our Sedona Attractions section.
Sedona attracts so many different types of visitors, which is why there are so many different things to do. Couples often come here for a romantic getaway; some people come for spiritual guidance; others just love the great outdoors. Each of these reasons collectively have developed a culture unique to Sedona. The best part is that you get to enjoy all of it if you want to! Sedona is small enough that everything is close but big enough that there's always more to explore and experience.
Sedona tours and attractions are "must do's" if you're visiting for the first time or even the fifth time; but they're not the only things to do in Sedona, AZ. Popular activities include going on vortex hikes, yoga, getting your aura read, shopping, taking photography workshops, trying raw cuisine - and the list just goes on! From fly fishing to psychic readings, spa treatments to stargazing, Sedona has activities for everyone.
Sedona is clearly known for its picturesque, natural landscape. As tempting as it may be to just sit back in a comfortable lounge chair at your Sedona resort and drink a glass of wine as you gape in awe at the stunning views, it is highly recommended that you put on your adventure hat and go explore this truly beautiful piece of geology at some point on your trip. Even if being outdoors to you is playing a round of golf, doing yoga on a vortex or visiting the wild animal park, Sedona is definitely a place to get outside and enjoy the fresh air.
If you're the visitor who wants nothing else but to make this one of your most exciting outdoor excursions yet but are somewhat of an "indoorsy" person with limited experience trekking into mother nature, no worries! There are several guided options for you to take advantage of while you're in Sedona, AZ. Go on a guided hike (vortex, archeological, nature...they're all excellent); Sedona Jeep tours are a great way to get up close and personal with the red rocks but still have the entertainment of a fun ride; or you could take a kayaking trip down the Verde River and even have the option of riding down the river to one of the local vineyards for some afternoon wine-tasting relaxation.
If you want to explore on your own, some of the more commonly enjoyed outdoor activities, are hiking, swimming in the creek, sliding down the mossy rocks of Slide Rock, blackberry picking during the rainy season in the summer, fall leaf peeping along Oak Creek Canyon, having a picnic along the water and camping. Soon, we'll have a list of our favorite hikes in the area.
If you're well-acquainted with mother nature, then you probably already have some mountain biking trails, rock climbing routes, swimming holes and epic hikes picked out. If you didn't know that about Sedona...SURPRISE! Yes, Sedona has some amazing natural features for you to enjoy. If you'd like to do any of these outdoor activities but think you might want a guide or some beta, there are mountain bike shops, climbing guides who come down from Flagstaff and all sorts of outdoor specialists that can assist you with any kind of site guiding or gear knowledge you may want to confirm before going out on your adventure.
Sedona shopping is one of the most popular Sedona activities. Clothing, antiques, furniture, collectibles and gifts abound at one-of-a-kind boutiques, gift shops and prestigious Sedona art galleries. With five major shopping districts in Sedona, you can shop 'til you drop. Start your Sedona shopping excursion in Uptown Sedona—Sedona's most-popular shopping & dining district with an eclectic collection of shops along Main Street and clustered in open-air shopping plazas like The Shops at Pinon Pointe and Sinaqua Plaza—it's souvenir central. Sedona shopping continues at three must-visit shopping destinations along Oak Creek and Highway 179: Tlaquepaque, Hillside Sedona, and Hozho Sedona. Be sure to check out West Sedona's The Old Marketplace, and the Village of Oak Creek where you'll find both Tequa Plaza and the Sedona Factory Outlets.
Art & Galleries
Known internationally as an art Mecca, Sedona, Arizona is home to dozens of art galleries featuring classic Western and Native American art, bronze sculpture and jewelry to the most contemporary art galleries. Sedona, Arizona has the finest visual art from all over the world, as well as a spectacular and diverse display of work in a wide variety of media. From art studios and workshops to art galleries in Sedona, Arizona to the Sedona Arts Center, you'll find fine art, contemporary art, photography, bronze sculpture, Hollywood memorabilia and other Sedona art experiences. Sedona's artists and art galleries make art accessible to everyone, from the serious collector to the casual appreciator.
Heritage and Culture
Learn about Sedona AZ history at the many Sedona heritage and culture experiences in Sedona. Explore the lives of the ancient people through ancient Sedona art, petroglyphs and Indian ruins. Or immerse yourself in modern Sedona history that spans the last century - from the first pioneer settlers to the golden days of Hollywood to current masterworks of Sedona art - you'll be drawn to learn all about Sedona, AZ history as countless visitors have been before.
Tweet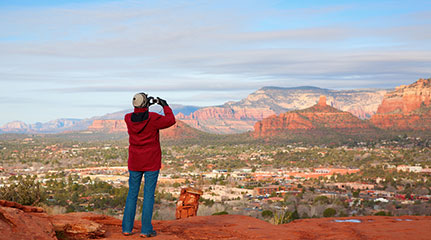 SELF-GUIDED SEDONA DRIVING TOUR
Find your own way to some of Sedona's best views and must-see spots using our self-guided driving tour.
Start the Tour »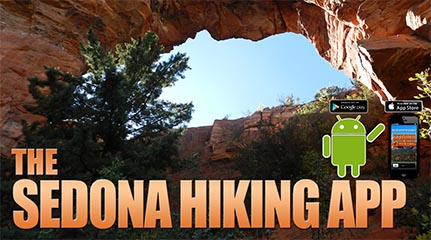 DOWNLOAD THE SEDONA HIKING APP
This app has over 100 trail maps available with more on the way! Follow your location in real time and always know where you are on the trail.
More App Info »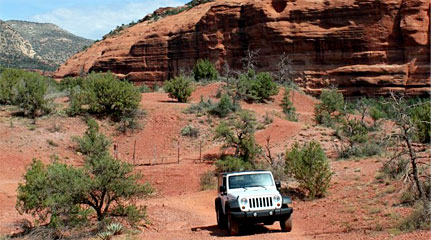 GET OUTDOORS
Rent a jeep for the day or have someone guide you on a jeep tour! Experience why this is the favorite modern Wild West Sedona adventure.
Sedona Outdoor Recreation »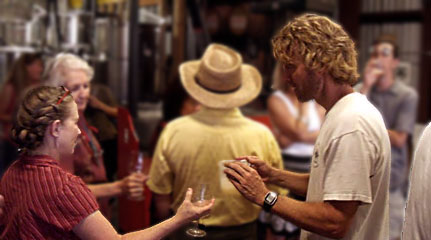 ARIZONA WINE COUNTRY
Sedona, Page Springs and Cornville are the beating heart of Arizona's wine country. Come taste the emerging hotspot vying for Napa-like status. See Sedona Wineries »