Directions
Directions from Phoenix to Sedona
Take I-17 north toward Flagstaff 98.4 miles. Take exit 298 and turn left onto Highway 179. Travel on Highway 179 14.2 miles to Highway 89A. The intersection of Highway 179 and Highway 89A is known as the "Y". Many Sedona attractions, shopping, lodging and other business refer to the "Y" as a point of reference.
119 miles, 2 hours
Alternatively, if you are staying in West Sedona or if traffic necessitates, you can approach Sedona via Cottonwood. Take I-17 north toward Flagstaff 87 miles. At Camp Verde, take exit 287 for Highway 260 west toward Arizona 89A/Cottonwood. Follow Highway 260 12.4 miles. Turn right onto Highway 89A N and continue 18.5 miles into Sedona.
127 miles, 2 hours 6 minutes
Directions from Flagstaff to Sedona and back (there are two ways you can get to Sedona from Flagstaff and vice versa)
If the weather is good, begin taking I-17 south from Flagstaff. Just 2 miles south of the junction of I-40 and I-17, exit at Highway 89A (exit 337). This takes you on a breathtaking 25 mile drive through Oak Creek Canyon.
27 miles, 40 minutes
If it is snowing, take I-17 south from Flagstaff about 41 miles to State Highway 179. From there, go about 15 miles north on Highway 179 and you will enter Sedona. This route takes about an hour from Flagstaff to Sedona.
56 miles, 1 hour
---
Directions from Sedona to Flagstaff (This route is via Highway 89A through Oak Creek Canyon recommended for its beauty and short distance. Take it in good weather and daylight.)
Take Highway 89A north 25 miles through Oak Creek Canyon. Take I-17 north toward Flagstaff (2 miles.)
27 miles, 40 minutes
Directions from Sedona to Grand Canyon South Rim and back (there are three ways you can get to the South Rim from Sedona)
OPTION 1 – Directions from Sedona to Grand Canyon South Rim
Take Highway 89A to I-17 N to I-40 W. Take I-40 west toward Williams to Highway 64. Take Highway 64 north directly to the main entrance to the South Rim of Grand Canyon National Park.
114 miles, 2 hours 5 minutes
OPTION 2 – Directions from Sedona to Grand Canyon South Rim
(recommended for good weather and daylight only)
Take Highway 89A to I-17 N to Flagstaff. Take Highway 180 west to Highway 64. Take Highway 64 north directly to the main entrance to the South Rim of Grand Canyon National Park.
108 miles, 2 hours 14 minutes
OPTION 3 – Directions from Sedona to Grand Canyon South Rim Desert View (East) Entrance
Take Highway 89A to I-17 N to Flagstaff. Take Highway 89 north to Highway 64. Take Highway 64 west to the East Entrance of the South Rim of Grand Canyon National Park, nown as Desert View.
135 miles, 2 hours 42 minutes
---
Directions from Grand Canyon South Rim to Sedona
Take Highway 64 south to I-40 East. Take I-40 East to Flagstaff. Take I-17 south from Flagstaff to either a) exit 337 to Sedona via Highway 89A through Oak Creek Canyon or b) to Highway 179 to Sedona (see directions from Flagstaff).
Option a) 114 miles, 2 hours 5 minutes; Option b) 56 miles, 1 hour
---
Directions from Sedona to Grand Canyon North Rim

Take Highway 89A to I-17 toward Flagstaff and then take I-40 east to Highway 89. Take Highway 89 north to Highway 89A. Take Highway 89A west to Highway 67. Take Highway 67 south directly to the North Rim of Grand Canyon National Park (Please note: the North Rim is only open mid-May through mid-October.)
238 miles, 4 hours 38 minutes
---
Directions from Sedona to Grand Canyon West Rim

Take Highway 89A to I-17 toward Flagstaff and then take I-40 east toward Kingman. Take exit 51 for Stockton Hill Road. Turn right at Stockton Hill Rd and continue 41.5 miles. Turn right at Pierce Ferry Road. Continue onto Diamond Bar Road. Turn left to stay on Diamond Bar Road. Continue straight onto Buck and Doe Road. Destination, the parking lot at Grand Canyon West Airport, will be on the right.
249 miles, 5 hours 30 minutes
Directions from Las Vegas, NV to Sedona
Take I-515/US-93/US-95 toward Henderson. Take Highway 93 south to I-40. Take I-40 east to Flagstaff. Take I-17 south from Flagstaff to either a) the exit 337 through to Sedona via Oak Creek Canyon or b) to Highway 179 to Sedona (see directions from Flagstaff).
Option a) 274 miles, 4 hours 21 minutes; Option b) 302 miles, 4 hours 41 minutes
Directions from Los Angeles, CA to Sedona
Take I-10 East to Phoenix. Take Loop 101 north to I-17 north toward Flagstaff. Take exit 298 and turn left onto Highway 179. Travel on Highway 179 14.2 miles to Highway 89A.
480 miles, 7 hours
Sedona is located in Central Arizona in the Verde Valley, about 119 miles north of Phoenix Sky Harbor International Airport. Want to know the driving distance between Sedona and other surrounding cities? See below for details.
Driving Distances to Sedona from Surrounding Areas:
Tweet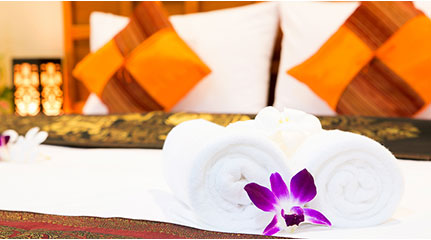 SEDONA HOTELS & RESORTS
Choose one of over 100 hotels and resorts in Sedona. Don't be overwhelmed by the choices; there's one just right for you.
Start Comparing Sedona Hotels »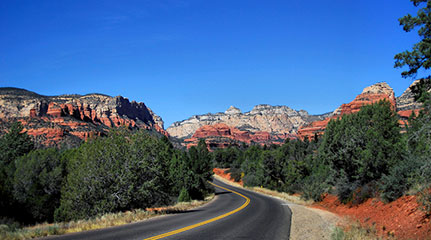 DRIVING DIRECTIONS TO SEDONA
Getting to Sedona is the first step. Driving is the most popular and practical way to get here.
Get Driving Directions from Nearby Cities »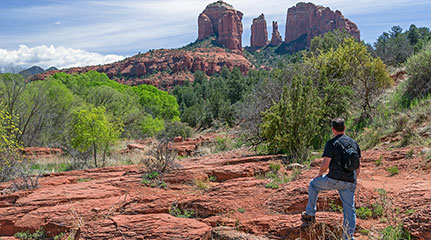 SEDONA ON A BUDGET
Secrets to visiting Sedona for less. Tips on where to stay, what to do, and where to eat on a budget. Save Money on Your Sedona Trip »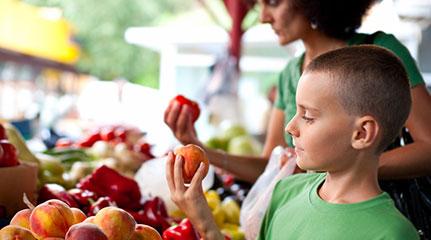 WHAT'S ON THE CALENDAR?
Our Sedona Event Calendar is full of festivals, workshops, art fairs, concerts and classes. Browse or add your event.
See the Event Calendar »