Visitor Information
The most essential and frequently asked visitor questions relate to maps, directions and transportation. After all, getting here is the first step before checking into your accommodations and hopping on a Jeep tour or a mountain biking trail. While there's no telling what your individual travel needs may be, it's helpful to know that most people come to Sedona from Phoenix (usually Phoenix Sky Harbor Airport) by car. Sedona is about 119 miles north of Phoenix Sky Harbor Airport, which takes about 2 hours to drive. If you're not coming from Phoenix, get directions and driving distances from your particular departure city.
Driving yourself is the best way to get to Sedona because you'll find yourself using your car each day of your vacation to explore Sedona's 18 square miles, plus the fascinating scenic drives, day trips, attractions and cultural sites throughout the Verde Valley. Plus, the expense of renting a car or putting gas in your own vehicle is comparable to the total cost of airport-to-Sedona shuttles, which run about $49 per person each way. To get to Sedona from Phoenix, take I-17 north 98.4 miles toward Flagstaff, then take exit 298 and turn left onto Highway 179. Continue 14.2 miles on Highway 179 to Highway 89A. The intersection of Highway 179 and Highway 89A is known as the "Y". Many Sedona attractions, shopping, lodging and other business refer to the "Y" as reference point.
When planning your visit to Sedona, it helps if you familiarize yourself with where Sedona is located within Arizona as well Sedona's four distinct areas: Uptown Sedona, West Sedona, the Village of Oak Creek and Oak Creek Canyon. You'll have a better understanding of all that is available within a half-day's drive from Sedona — Phoenix, the South Rim of Grand Canyon National Park, the entire Verde Valley and Flagstaff. Finally, you may want one of our specialty maps: a map of the reported vortexes, red rock formations, or even golf courses throughout Sedona.
It's highly probable that one of the reasons you're even planning a visit to Sedona is because of the glorious weather, are we right? Beyond 7-day forecasts, you're probably wondering what to pack and when to visit. The spring and fall are the most popular times of the year, largely due to perfect weather conditions of clear skies and daily high temperatures in the mid-60s to low 80s (degrees Fahrenheit). However, as one can see from the average temperatures each month of the year, there is no bad time to visit Sedona, and in fact, coming to Sedona in lower seasons such as late summer and winter, or Sunday through Thursday year-round, is a great time to find bargains and fewer crowds. With such mild, pleasant weather in which to get out and play (and play you will!) the best thing to pack for your Sedona trip year-round is casual light layers, a brimmed hat, comfortable sturdy shoes, sunscreen and a camera. You'll be welcome almost anywhere you go, shop or dine in casual clothes, and unique personal style is celebrated here.
Sedona is nestled in northern Arizona's Verde Valley. The Verde Valley is surrounded by the Mingus Mountains and Woodchute Mountains and is traversed by the Verde River. The diverse cluster of Central Arizona communities that draw in countless visitors to the Verde Valley each year include Sedona, Cottonwood, Cornville, Clarkdale, Camp Verde and Jerome. This rich valley is gilded with bed & breakfasts, hotels, and inn suites accommodations as well as things to do including Arizona wine country winery tours, railroad, mining and historical tours, casino fun, family friendly attractions and heritage and cultural sites. Read on to find a hand-picked selection of find Cottonwood hotels and bed & breakfasts, Verde Valley area tours and other things to do.
Was this helpful?
Once you've vacationed in Sedona — whether you visit once, twice, or a dozen or more times — you may consider buying a vacation home or relocating here permanently. Sedona Arizona real estate dreams are realized with help from the experts here in Sedona. The demand for Sedona homes for sale makes it obvious that this is a most-popular real estate destination for vacation rental homes, second homes, active resort lifestyle communities. Enjoy year-round outdoor weather, magical crimson landscapes and sunsets of unmatched beauty. Find homes for sale on a golf course or in a family-friendly neighborhood, or even one of the luxury resort living communities in Sedona. We're your resource for Sedona homes for sale, vacation homes, land or and real estate to buy, sell or rent. We can refer you to Sedona real estate agents and Realtors who are ready to help. No matter what your dream, the Sedona Arizona real estate market has what you're looking for.
Was this helpful?
If you know your Sedona travel dates, be sure to check out our Sedona Events Calendar! No matter when you plan to visit, you'll find that the area is busy with Sedona events year-round. Art and music enthusiasts will love the frequent arts festivals, art shows and cultural festivals like the nationally-renowned Sedona Film Festival and Sedona Jazz on the Rocks festival, plus concerts and special performances. Outdoor lovers should check out scheduled hikes, retreats and adventures. Come to Sedona for the fall and winter to see the Sedona Arts Festival and Fiesta del Tlaquepaque in October, and "Festival of Lights — The Lighting of 6,000 Luminarias" — in November. There's always something going on in Sedona. And if you'd like to post your event on our Sedona Calendar of Events, we encourage you to submit and promote your event with us.
Whether you're looking for information on where to stay, what to do, weather, maps and area information or vacation planning advice, you'll find it all in our Frequently Asked Questions. And if you can't find your answers here, please feel free to post in our Sedona traveler's forum, or contact us directly.
Written by: CHRISTINA HECHT on Google+
Tweet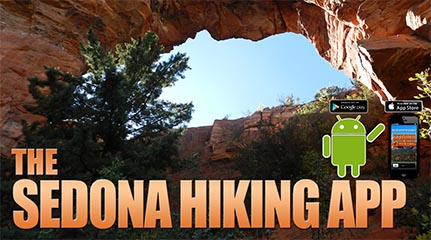 DOWNLOAD THE SEDONA HIKING APP
This app has over 100 trail maps available with more on the way! Follow your location in real time and always know where you are on the trail.
More App Info »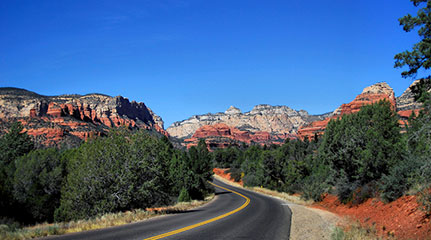 DRIVING DIRECTIONS TO SEDONA
Getting to Sedona is the first step. Driving is the most popular and practical way to get here.
Get Driving Directions from Nearby Cities »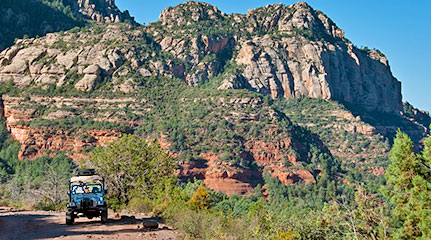 WHAT NOT TO DO IN SEDONA
As loved as Sedona is (and it really is!) there are some things NOT to do when visiting here. See What NOT to Do »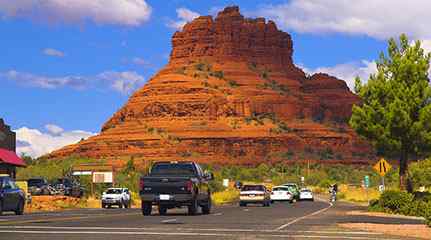 PARKING AND TRAFFIC IN SEDONA
When you visit Sedona, you may experience "Red Rock Gridlock." Read insider tips on avoiding traffic, parking, and the Red Rock Pass.
Learn to Avoid Red Rock Gridlock »