Airport
There are several ways to fly into the Sedona area. Here are some helpful links and information on several area airports near Sedona. Most people fly into…
Phoenix Sky Harbor International Airport (PHX)
Most Sedona visitors fly into Phoenix Sky Harbor Airport because it is the closest major international airport to Sedona; just over 2 hours' drive (119 miles). It's the 11th busiest airport in the world with over 35 million visitors each year. 1500 flights arrive and depart daily leaving no doubt that the Valley of the Sun continues to draw tourists, businesses and residents alike.
119 miles; 2 hour drive from Phoenix to Sedona
Flagstaff Pulliam Airport (FLG)
Flagstaff Airport is the closest small commercial airport to Sedona, just a 40-minute scenic drive away through Oak Creek Canyon. Fly US Airways/America West Airlines exclusively from or connecting through Phoenix Sky Harbor Airport (PHX). Or, fly a private/charter aircraft into Flagstaff Pulliam Airport.
25.3 miles; 40 minutes drive from Flagstaff to Sedona.
Las Vegas McCarran International Airport, Nevada (LAS)
Fly commercial into Las Vegas McCarran International Airport. McCarran International Airport was the fifth-busiest airport in North America, and 10th in the world (year end 2004 per Airports Council International). In 2005, McCarran's passenger traffic was a record breaking 44,267,362. In 2005, McCarran averaged 121,280 passengers per day. Currently, more than 34 airlines provide nonstop service to 135 domestic and international destinations. More than 1,100 daily scheduled flights operate in and out of McCarran airport. McCarran offers nonstop scheduled service to Canada, Germany, Mexico, the Philippines, South Korea, Switzerland and the United Kingdom.
292 miles; 5.5 hour drive from Las Vegas to Sedona.
Prescott Ernest A. Love Field (PRC)
Prescott's central Arizona location and close driving proximity to Phoenix, Sedona, Flagstaff and the Grand Canyon make it an ideal home base for any Arizona vacation. And with limited commercial airline service courtesy of Great Lake Airlines, it's feasible to make Prescott your starting and ending airport destination, particularly if you're flying in or connecting from Los Angeles, Denver, Moab, Page or Kingman.
55 miles; 1.5 hour drive from Prescott to Sedona.
Sedona Airport (KSEZ)
Sedona Airport... The Premier Southwest Resort Destination Airport and "America's Most Scenic Airport." Established in 1955, Sedona Airport is located on top of a mountain five hundred feet above Sedona. Over the last 50 years the airport has kept pace with Sedona's evolution as a premier resort destination by continually improving its runways, taxi-ways, transient parking, hangar availability, fuel services and overall attraction to drive-in and fly-in visitors. Please note that no commercial airlines fly in and out of Sedona. Fly private or charter aircraft into Sedona.
2 miles; Located in West Sedona.
Grand Canyon Airport (GCN)
Fly private or charter aircraft into Grand Canyon Airport near Tusayan at the entrance to the South Rim.
105 miles; 2 hour drive from Grand Canyon/Tusayan to Sedona.
Tweet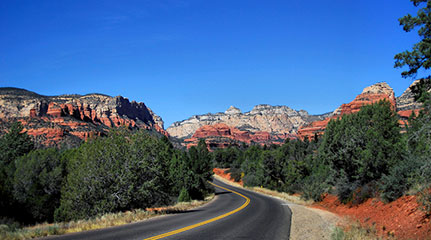 DRIVING DIRECTIONS TO SEDONA
Getting to Sedona is the first step. Driving is the most popular and practical way to get here.
Get Driving Directions from Nearby Cities »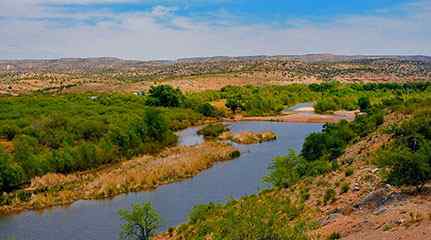 THE VERDE VALLEY
This central/northern Arizona swale is rich in mining and ancient Native American history, family-friendly attractions and wine country.
Discover the Verde Valley »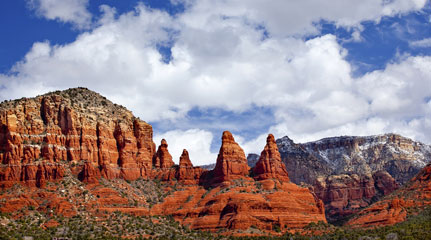 SEDONA, AZ WEATHER
Check out the weather conditions before you come. And in case you're wondering, there is no bad time to have a Sedona, AZ vacation.
See Sedona Weather »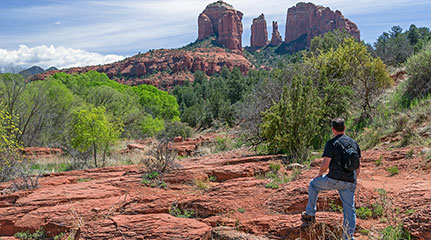 SEDONA ON A BUDGET
Secrets to visiting Sedona for less. Tips on where to stay, what to do, and where to eat on a budget. Save Money on Your Sedona Trip »