Family Friendly Sedona
Family Friendly Hotels
Load up the minivan and head to Sedona for your next family vacation. We know what it's like traveling with kids, especially by car, but unlike many road trips, locals will tell you not to worry about making a long drive to get to Sedona, or trying to sightsee along the way. Just power through the time spent driving and get to Sedona as soon as you can; this is where you'll relax, especially if you arrive at least an hour before the evening's sure-to-be-glorious sunset. There is a host of family-friendly hotels and accommodations awaiting your family's arrival in Sedona, each meeting most parents' and kids' top criteria: budget, location, elbow room and amenities.
Budgets are subjective, of course, but we're willing to bet that a family on vacation will always appreciate getting a good value no matter how much or little they spend. Consider whether the hotel or motel includes breakfast, or offers free wireless internet access; value-added amenities like that can save a family around $25 per day.
There are budget and family-friendly hotels throughout Sedona, but two good places to start are the Village of Oak Creek (not to be confused with Oak Creek Canyon) and West Sedona. In general, you'll find that familiar pocket-friendly hotel and motel chains as well as lower-priced singular hotels are located in both West Sedona and the Village of Oak Creek. Our Sedona hotel guide offers a quick look at each hotel's price range and displays them on a map, or you can use our Sedona hotel finder to sort by location and real-time rates for your particular vacation dates.
If you're traveling with tweens, teens or with another family, you may want to find accommodations with some extra elbow room. There are several hotels with suites available, but Sedona is fortunate to be able to offer visitors vacation rental homes as well as several timeshare or vacation ownership resort options as a spacious alternative. Particularly attractive for a 3+ night stay or longer, a vacation home rental or timeshare resort rental is a great solution for families on vacation, even if you're not a timeshare owner. Search the web for vacation rentals by owner to find vacation rentals, and familiarize yourself with Diamond Resorts, Sedona Pines, Poco Diablo, Los Abrigados, Arroyo Roble, Wyndham, Hyatt and Hilton resorts for accommodations ranging from one to three-bedroom condos or suites.
Let's face it: the kids will be tickled "red" if you choose a hotel with a swimming pool—either a heated outdoor pool you can use pretty much February through November, or an indoor pool like the one at Villas of Sedona. Particularly refreshing upon your first afternoon's arrival, especially after a long(ish) drive, the hotel's pool is the perfect place to head immediately after you drop your bags in the guestroom. Let the kids swim and tucker themselves out while you enjoy poolside refreshments and towering red rock views; the crimson color gets cranked up to the max in the setting sunlight. Enjoy a good night's sleep in your budget-friendly, perfectly located, spacious accommodations because there's a whole lotta family-friendly activities to explore on your Sedona vacation!
Kid Friendly Activities
Today, on average, young people are spending 4 minutes a day in the outdoors, and, it is said, 6 hours a day in front of a television or a computer. Sedona is a phenomenal place to reverse that trend and get young people – in fact, all people – into the Great Outdoors, as part of a healthy vacation itinerary. While it's not the most obviously family friendly destination - in fact, part of Sedona's appeal may just be that there are no theme parks, arcades or sprawling malls - Sedona is a great place for families traveling with kids, IF you know where to look.
First, there are plenty of tour operators that will expertly help you get into the surrounding canyons by jeep, horseback, all-terrain vehicles or even a train or a hot air balloon, and the guides will gladly tailor their narrative to fascinate kids and pique their natural curiosity.
Second, venture out on your own; independent activities such as hiking, golf, fishing along Oak Creek, or swimming in the creek at Slide Rock or Grasshopper Point are the stuff that childhood memories are made of. In fact, kids aged 6 - 12 can complete the Junior Ranger program at Arizona State Parks like Red Rock and Slide Rock State Parks. If you need further specifics on where to go, look here or ask a local; most of Sedona's residents are open-air enthusiasts and will happily point you toward quiet locations where your kids can explore nature.
Third, if you can't separate your tween or teen from her smartphone, make it work for you! Put your kiddo in charge of taking photos with the cell phone camera during your vacation. He can even try to complete our Sedona Photography Challenge and share your pics with us on Instagram!
Family Friendly Restaurants
One thing parents often hear when traveling with kids is the whine of "I'm huuuuunnnnggrryyyyy!" Faced with the challenge of finding kid-friendly places to eat at least three, and sometimes more, times a day on your vacation, you are wise to look in advance for restaurants and eateries that cater to families.
While it's certainly true that most places in Sedona will welcome you and your progeny, why not check out these especially kid-friendly joints that offer a decent array of choices on their children's menus, won't break your budget (probably), and will keep the kidlets entertained long enough for you to actually take a rest, maybe have a cocktail, and enjoy a meal yourself.
Insider tip: If you're staying a couple of days and your lodging has a fridge and/or microwave in the guestroom, make an early stop at one of the local grocers like Safeway or New Frontiers Natural Marketplace to stock up on some kid-friendly snacks and maybe even a simple ready-to-eat meal or two. You'll be happy to have fresh goodies and drinks on hand to not only keep up your sightseeing energy, but also avoid having to eat every single meal in a restaurant.
Kitschy - Red Planet Diner {B, L, D; novelty decor; classic diner menu; West Sedona}
Classic - Coffee Pot Restaurant {B, L; lots of kids' menu choices; West Sedona}
Casual Anytime - Wildflower Bread Company {B, L, D; easy location with good parking; Uptown}
Breakfast - Red Rock Cafe {B, L, D; locals' favorite; Village of Oak Creek}
Lunch - Picazzo's Organic Italian Kitchen {L, D; Organic, local and gluten-free ingredients on pizzas and pasta; West Sedona)
Snacks - Black Cow Cafe {L, D; Homemade ice cream and waffle cones, gourmet hot dogs; Uptown}
Dinner - Red Rock BBQ {L, D; Great BBQ menu, the atmosphere and staff welcome children; Uptown}
Healthful - The Secret Garden Cafe {B, L, D; Several nutritious and delicious options for kids and adults; Uptown/Tlaquepaque}
Patio - Ken's Creekside {B, L, D; Good variety in the kids' menu; Uptown}
Tweet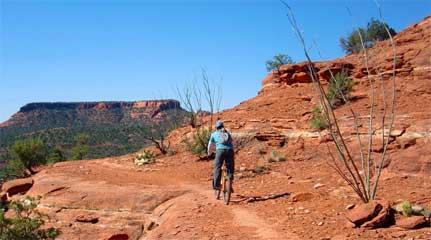 SEDONA FOR OUTDOOR ADVENTURE LOVERS
Sedona has some of the most scenic mountain biking trails, rock climbing routes and refreshing swimming holes in the great Southwest.
See Outdoor Adventure Ideas »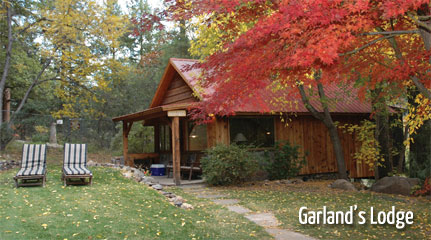 SEDONA CABINS & BED AND BREAKFASTS
Sedona cabins along Oak Creek and bed & breakfasts hidden at the foothills of the red rocks are the perfect escape for your Sedona, AZ vacation. Where to Stay in Sedona »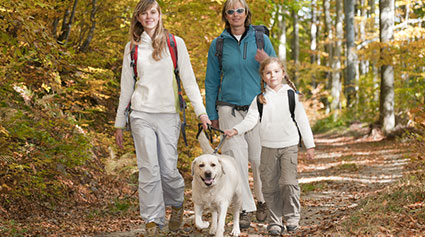 PET-FRIENDLY SEDONA
Traveling with your pet? Sedona has a variety of accommodations for you and the pooch. After settling in your hotel, a nice hike and a swim in the creek are definitely in order. See Pet-Friendly Sedona »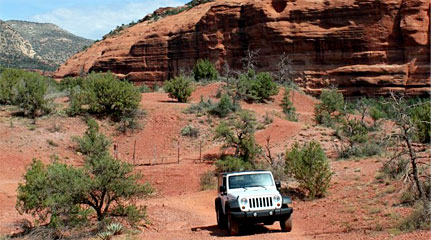 GET OUTDOORS
Rent a jeep for the day or have someone guide you on a jeep tour! Experience why this is the favorite modern Wild West Sedona adventure.
Sedona Outdoor Recreation »