FAQs
What is the elevation of Sedona?
4,326 ft or 1,318.5 meters
What is a vortex?
A vortex is a location believed to promote focused, elevated energy levels and a sense a well-being to those that are in tune with its energies. There are several vortexes in Sedona including Bell Rock, Airport Mesa, Cathedral Rock, and Chapel of the Holy Cross.
Sedona Vortex Map »
What is the population of Sedona?
As of the most recent census, there are curretnly 10,397 residents.
How expensive is it to live in Sedona
Cost of Living in Sedona, AZ is 29% higher than the National Average
How many tourist visit Sedona each year?
According to Debbie Johnson, the director of the Arizona Office of Tourism, 10.2 million of Sedona's visitors are from Arizona while 7.8 million come from California, 1.9 million travel from Illinois and another 1.6 million from Texas.
Where do I get a Red Rock Pass?
There are kiosks located all around Uptown Sedona. Here is a link of specific locations where you can purchase a
Red Rock Pass
How cold does it get in Sedona?
Sedona experiences around freezing temperatures about 3 months a year, mostly on winter nights. Day time temperatures are anywhere between 40 - 60°F.
Sedona Weather »
How hot does it get in Sedona?
During summer months, Sedona gets to be about 85-95°F during the day with a few days over 100°F. At night it drops down to around 60°F on average.
Sedona Weather »
How long is the drive to Sedona from Phoenix?
Sedona is approximately 116 miles from Phoenix depending which part of Phoenix you are driving from. It takes on average 2 hours to get to Sedona from central Phoenix.
Phoenix to Sedona Directions »
What's the best way to get to Sedona from Phoenix?
It is strongly advised to have your own vehicle when visiting Arizona. Many of the Southwest's most interesting and worth-while attractions cannot be accessed by public transportation. Shuttles and guided tours are another great way to see Sedona and the Grand Canyon. If you're simply just trying to get from Phoenix to Sedona, Arizona Shuttle has a frequent schedule leaving from Sky Harbor Airport and Metro Center Mall. Shuttle tickets can be purchased online for $48 each way.
Shuttles to/from Sedona »
Why are Sedona's rocks red?
We'll leave this to the geologists. According to Sciencing.com, Sedona's red rocks were created in 3 phases:

The Beginning

The Sedona area was at sea bottom 330 million years ago, and the shells of sea creatures formed a layer of limestone that underlies the area today, called the Redwall limestone because of its color, the result of iron oxide deposited in the rocks by water in later eras. The Supai Group of red sandstone, deposited when the area was a floodplain about 300 million years ago, sits atop the Redwall Formation, to a depth of about 600 feet. On top of that is a layer called the Hermit Formation, about 280 million years old, made of sandstone, mudstone and conglomerate.
The Middle Period

On top of the Hermit Formation is a layer that 270 million years ago was coastal sand dunes, and is now red sandstone up to 700 feet thick in places. Two more layers of sandstone were then capped by a layer of limestone laid down when the sea returned about 255 million years ago and is known as the Kaibab Formation.
The Final Phase

The so-called Laramide orogony--a round of mountain building that created the Rocky Mountains between 80 million and 35 million years ago--lifted the Sedona area and caused cracks that provided channels for water flowing from the new mountains. Water erosion widened the cracks into broad valleys, leaving only islands of the original layers above the Hermit Formation, in the form of the red buttes, spires and towers that now surround Sedona as silent sentinels from a remote past.
How far is Sedona from the Grand Canyon?
Sedona is approximately 108 miles from the South Rim of the Grand Canyon and should take you just under 2 hours to get there. The South Rim is the most popular rim to visit year-round and several tour companies are available to take you from directly from Sedona to the Grand Canyon.
Grand Canyon Tours from Sedona »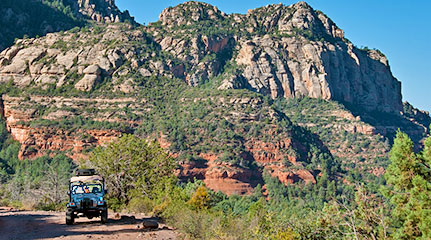 WHAT NOT TO DO IN SEDONA
As loved as Sedona is (and it really is!) there are some things NOT to do when visiting here. See What NOT to Do »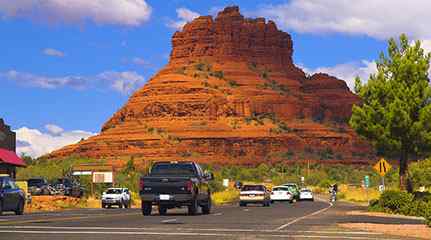 PARKING AND TRAFFIC IN SEDONA
When you visit Sedona, you may experience "Red Rock Gridlock." Read insider tips on avoiding traffic, parking, and the Red Rock Pass.
Learn to Avoid Red Rock Gridlock »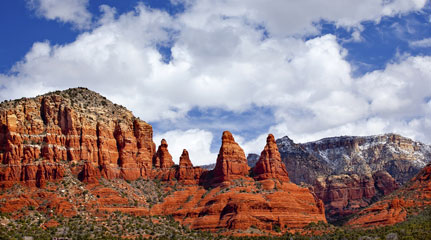 SEDONA, AZ WEATHER
Check out the weather conditions before you come. And in case you're wondering, there is no bad time to have a Sedona, AZ vacation.
See Sedona Weather »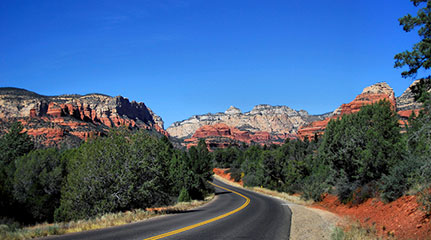 DRIVING DIRECTIONS TO SEDONA
Getting to Sedona is the first step. Driving is the most popular and practical way to get here.
Get Driving Directions from Nearby Cities »