Parking, Traffic and the Red Rock Pass
Parking
If you're looking for parking in Uptown Sedona, you may be lucky enough to find a spot along Hwy 89A along the storefronts, but your best bet is the free parking lot behind the Sedona Chamber of Commerce (331 Forest Road at Hwy 89A) or in the two-level lot behind Sinagua Plaza (270 N 89A) – both located in Uptown Sedona.
Traffic
As to traffic, the stretch of Hwy 179 between the Village of Oak Creek and Sedona can get very congested, especially in Sedona's high seasons from March through May and September through mid-December. The curvy, two-lane road is the main artery between the two popular areas and requires a moderate speed, even when it's not crowded. The good news is, Sedona has nearly a dozen traffic circles or roundabouts to ease traffic congestion and make it flow more efficiently. Plus, the slower pace gives the driver and passengers opportunities to see the fantastic scenery as it unfolds around you. Likewise, the portion of Hwy 89A in Uptown Sedona can be packed with cars and pedestrians, so take it easy… try to park as suggested above and get out on foot to walk along the storefronts and take in the views of Oak Creek and the towering red rocks.
How to Drive in Sedona's Roundabouts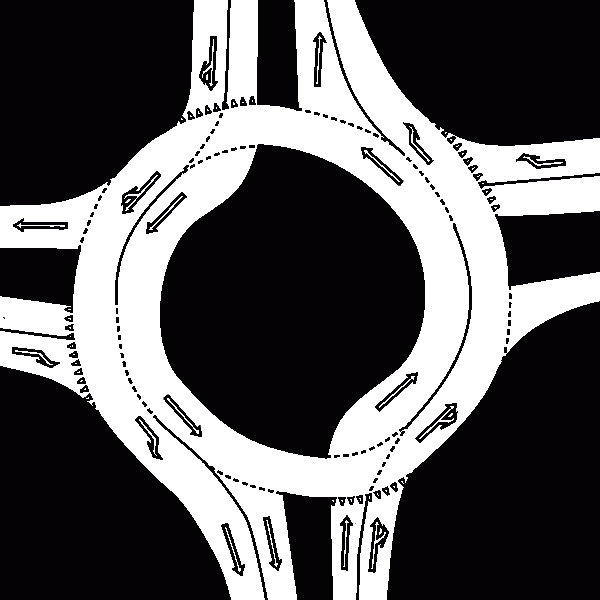 Roundabouts are designed to make intersections safer and more efficient for drivers, pedestrians and cyclists. There are two types of roundabouts: Single-lane roundabouts and multi-lane roundabouts.
There are a few key things to remember about driving roundabouts:
Yield to drivers in the roundabout
Stay in your lane; do not change lanes
Do not stop in the roundabout
As you approach a roundabout, slow down and watch for pedestrians in the crosswalk. Look to your left as you near the entrance to the roundabout. Yield to traffic already in the roundabout. Once you see a gap in traffic, enter the circle and proceed to your exit. If there is no traffic in the roundabout, you may enter without yielding. Look for pedestrians and use your turn signal before you exit, and make sure to stay in your lane as you continue around the roundabout. Staying in one's lane is particularly important in the two multi-lane roundabouts you'll encounter in Uptown Sedona at the "Y". Get familiar with the lay of the land in Sedona before you go, so that you can prepare yourself to be in the correct lane at these two busy traffic circles. You'll likely want to stick to the outermost lanes so you can safely exit right out of the roundabout to get to Uptown, the Shops at Pinon Pointe, or Tlaquepaque.
Where to Buy a Red Rock Pass
Sedona is surrounded by lots of National Forest Service land, so if you want to hike, picnic or just get up close and personal with the red rocks, you will likely need to purchase a Red Rock Pass for parking and access. Red Rock Passes are $5 per day, $15 per week or $20 per year and are available at Sedona's visitor centers, trailheads and many businesses and hotels in town.
North Gateway Visitor Center
Coconino Forest Supervisor's Office
Public Lands Information Center
Flagstaff Ranger District
Coconino Supervisor's Office
Back O' Beyond/Cathedral Rock
indian Gardens Visitor Center
Encinoso and Halfway Picnic Areas
Arizona Natural History Association
Best Western Arroyo Roble
Best Western Inn of Sedona
Cottonwood Chamber of Commerce
Flagstaff Visitor's Center
New Frontiers Natural Marketplace
Sedona Chamber of Commerce
Sedona Historical Society
Oak Creek Vista, Highway 89A
100 Verde Valley School Rd
Written by: CHRISTINA HECHT on Google+
Tweet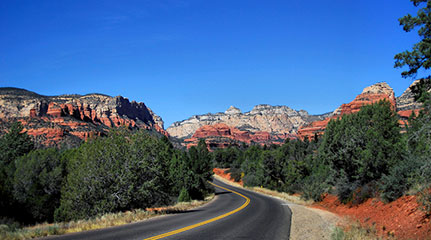 DRIVING DIRECTIONS TO SEDONA
Getting to Sedona is the first step. Driving is the most popular and practical way to get here.
Get Driving Directions from Nearby Cities »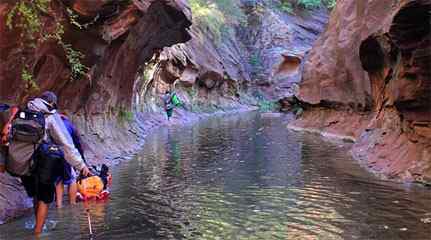 HIDDEN SEDONA - THINGS YOU MIGHT MISS IF YOU'RE NOT LOOKING
From blackberry picking along Oak Creek Canyon and adventure hikes, to quiet, tucked away lunch patios; Hidden Sedona is the best of Sedona.
See Hidden Sedona »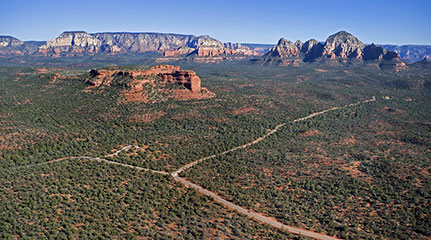 SEDONA IS A NORTHERN ARIZONA HUB
Choose Sedona to be your northern Arizona home, from where you can launch a myriad of day-trips and excursions.
Begin Your Adventure Here »